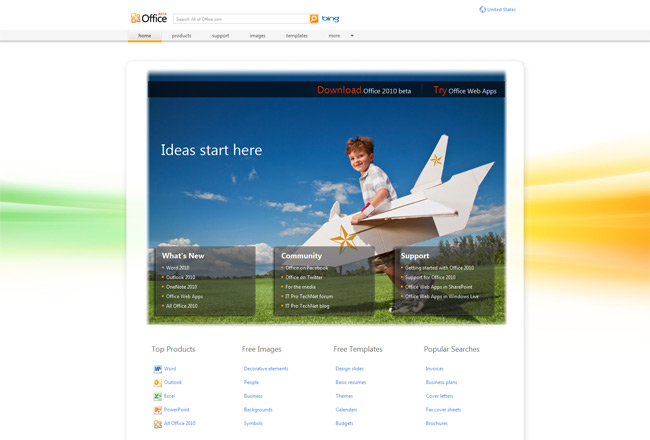 As the public Microsoft Office 2010 beta approaches, the Office online companion website set to take center stage on Microsoft's recently acquired Office.com has also undergone a radical redesign.
In my opinion, the Office online site has long been under-appreciated by both novice and power-users alike for its vast library of additional content including but not limited to a great selection of high-resolution stock photographs, most likely due to its complexity and corporate-centric feel.
Although still in beta, the new site is already addressing such problems by prominently featuring "images" and "templates" content in a much cleaner and contemporary design.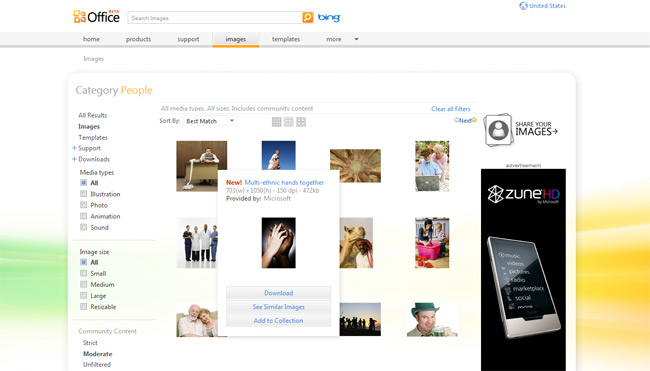 In particular, the previously cumbersome image library now also features a much more streamlined interface with a handy hover download button. Furthermore, a surprising "Share your images" link in the sidebar indicates it might even be possible for users to contribute to the library with their own content. User-generated content in a productivity tool? Who would have thought!
In the meantime, keep an eye on the site as it's also where you'll find download links to the beta when it is rumored to be officially available next week.