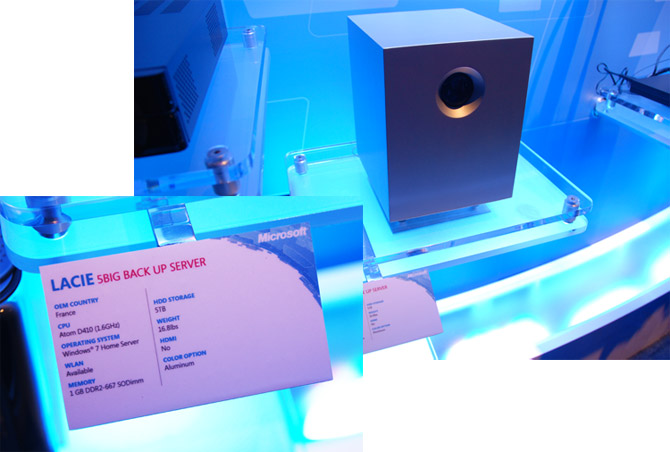 Even though the Windows Home Server team didn't dare to make an appearance at Microsoft CES 2011 booth, I did spot a single Windows Home Server product featured in the Windows PC showcase.
Discretely displayed at the show is the Lacie 5BIG Back Up Server. On closer inspection of information card reveals an interesting tidbit, its operating system is Windows 7 Home Server. A Microsoft representative later confirmed this is indeed the official name for the next version otherwise known as codename "Vail".
Since the server is already on the market with the current version of Windows Home Server, it's assumed this is at least one model that will also be sold with the new OS when it is available (not that anyone should buy it).
No availability or pricing information was provided.
Update: Andrew Edney was able to get Microsoft to reconfirm their display at CES and the information card's "Windows 7 Home Server" turns out to be a mistake. It has since been edited to "Windows Home Server". The official names is suggested to be Windows Home Server 2011 instead.
Disclosure: I am attending CES 2011 as a guest of Microsoft Australia.