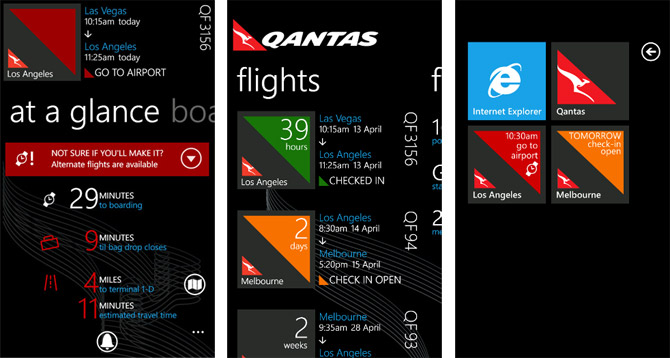 At the second MIX11 keynote today, there was no better demonstration of a slice of Windows Phone 7's evolved "Mango" update features for developers and consumers than the upcoming Qantas application.
The Australian airline, who didn't just want a port of their mobile site, in collaboration with Microsoft challenged themselves to reduce the stress of flying with an experience that looks like something out of a sci-fi movie, with glaring similarities to the idealistic "2019" Microsoft vision video.
Developed by local Australian mobile developer Nick Randolph and designer Shane Morris, collaborating remotely across Sydney and Melbourne, the application seen today came together in a matter of just barely three weeks.
The application shines with an array of new Mango features including but not limited to, multiple tiles, double-sided tiles, live agents, deep linking, native alerts and a Bing Maps direction launcher. Expect even more Mango features to be integrated into the application before its release.
Looking back at the 2019 video, it doesn't take a genius to figure out that the interactive boarding card is a not too distant future with the Qantas app adapting to whether or not you are at the airport, even providing you an easy way to reschedule the flight if it anticipates you can't check-in in time.
As a frequent flyer of Qantas on the very route demoed, neither Mango or this app can come soon enough.