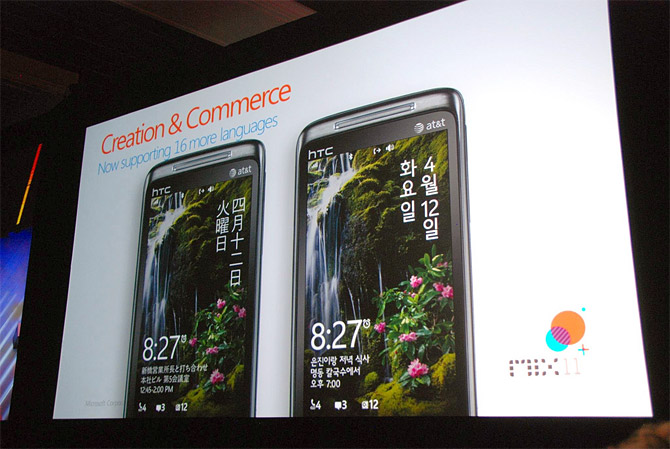 During MIX11 last month, Microsoft announced they would introduce support for an additional 16 languages in Windows Phone 7 "Mango" including the highly anticipated East Asian languages including but not limited to Chinese, Japanese and Korean. Shortly afterwards I learned about some additional tidbits that I forgot to write about, so here it is, better late than never.
As illustrated on the keynote slide above, East Asian support is not only the introduction of a new character set but actually a slightly modified implementation of the Metro design language.
To accommodate the bigger size of character-based writing, the Windows Phone design team is adopting a vertical text layout to reduce the amount of text clipping that would occur more frequently (than it already does). The vertical text will not be limited to just the date and time on the lock screen but will also be featured in hubs (panoramas) and other native apps.
Unfortunately for third-party developers and designers, Microsoft had indicated the vertical layout will not be automatically available to third-party applications. Of course I presume there will be nothing to stop apps from emulating the look, just these layouts probably won't be supported in the native panorama templates that ship with the official SDK.
Furthermore, it wouldn't be surprising if these East Asian changes is part of a broader Metro refresh for Mango as well. After all, in a meeting with the Windows Phone design team shortly after WP7's launch, they had already indicated they were hard at work on the evolution of Metro.