Surprise surprise. Windows Vista speech recognition actually works. Contrary to what MSNBC criticize as a 'wreck', the speech recognition technology is well developed and highly usable. I got my hands on the July CTP build (5472) of Windows Vista and gave it a try, and I recorded what I found. I used the internal microphone array in my laptop, so the sound quality is not optimal but Vista handled it well.
This screencast focuses on the areas of speech recognotion including: dictation, commands, selecting alternatives, 'show numbers', 'mouse grid', mouse functions, web browsing, and keyboard functions. The following video contains mild coarse language, strong violence and parental guidance is advised.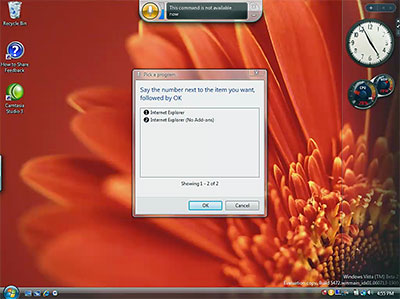 Press image to play video (Quicktime H.264 5:03min)
Recorded on a Toshiba Portege M400 Tablet PC with a reduced resolution of 1024×768 for optimal frame-rates.
In addition: There is a whole lot more to speech recognition than what I have demonstrated. Even many basic features that I haven't demonstrated, like spelling out a name or technical word. So don't think what you see is what you get, having said that, the possibilities of speech recognition in a Tablet PC or Media Centre is mind-blowing. I thank everyone who enjoyed the video.
In addition addition: A lot of people also noticed that I had to repeat a bit of what I said. This is primarily my fault. In the speech control panel, you would often see a blue rotating circle. This is to indicate the speech recogniser is currently busy checking what is on-screen. Also, Camtasia the screen recording tool is very CPU intensive, so there was less processing power was available for the speech recogniser. I sometimes spoke too quickly between commands, so it hasn't fully analysed all the available options yet.
Update: Just to impress you even more, check out this perfect demo of speech recognition in french showing the same functionality! Oh la la.