Apple now has two solutions for the living room entertainment experience, the Mac Mini and codename iTV. Microsoft also has two, the Media Center and Media Center Extender. Each has its own advantages and disadvantages. Let's take a look at each through a list, bet you've never seen a list on a blog before.
The following blog post is based on preliminary information about an unreleased product. Specifications may change in the future. So if the iTV thing turns out to be different, don't look at me.
Mac Mini

The Mac Mini is a small-form desktop computer designed to satisfy the low-budget buyers of personal computers. It ships with Front Row as well as the Apple Remote. It is priced around the $600 mark.
Advantages
It can run applications.
It has storage capabilities through a hard drive.
It can play DVDs.
It plays a large variety of media formats, both supported and not-supported by iTunes.
Has Front Row. A 'semi-10-foot' user interface.
Disadvantages
It doesn't have HDMI output. Not essential but popular with HD display panels. (DVI alternative)
It doesn't have a lot of graphics processing power to play intensive games.
A little bulky. Needs power supply.
No TV (DVR) functionality. (Third party USB solutions available).
Codename iTV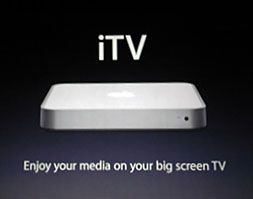 iTV is a project in development slated to release in the first quarter of 2007. The form factor resembles a Mac Mini but is thinner is height. It is designed to play content from an iTunes-enabled PC onto a television.
Advantages
Ultra-small and ultra-portable.
Has HDMI as well as component video outputs.
Can stream movie trailers from Apple.com
Very cheap.
'10-foot' user interface.
Disadvantages
Must have content available from iTunes enabled PCs elsewhere on the network (Mac+PC).
(Must be on a home network.)
Does not run system applications.
Does not play non-iTunes content.
Does not play DVDs (natively on the device).
Windows Media Center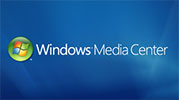 Previously, Windows Media Center was a solution based around a combination of hardware and software delivered by OEMs. Now with Windows Vista, Windows Media Center is purely a software solution that is available on two versions of Windows Vista.
Advantages
Is a software package. Can be installed on any computer. (System configuration to user's preference)
Can run other applications.
Has storage capabilities.
If user already has an appropriate version of Windows, comes at no cost.
'10-foot' user interface.
Supports TV/Radio (DVR) tuners.
Plays DVDs.
Disadvantages
Does not fully support every Windows compatible TV tuner.
System form-factors are usually bulky.
Systems are usually expensive.
Is current only an OEM solution. Not easily available to consumers.
Media Center Extender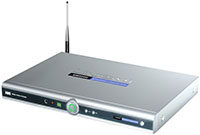 The Media Center Extender is a device that allows streaming of content from a Windows Media Center system to a television. Products has been on the market since 2004, long before Apple. The Linksys product sells for about $200. XBOX 360 also supports Media Center Extending capabilities, but obviously sells for much more.
Advantages
Small and portable.
Fairly cheap.
'10-foot' user interface.
In the case of the XBOX 360, you can also experience other entertainment content.
Disadvantages
Must have content available from Media Center enabled PCs elsewhere on the network.
(Must be on a home network.)
Does not run system applications.
Does not support non-Media Center content. (But simple hacks can enable DivX streaming)
So what does this all mean? Well it means nothing is perfect. Every solution offers something different that is suited towards different markets, but there is a consistent quality in terms of experience throughout all four products. If you already own an abundance of content on existing computers, then the Media Center Extender or iTV solution is for you. If you want to use a PC exclusively for the media center, then the Windows Media Center and Mac Mini is better suited.