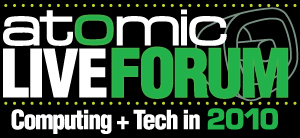 Predicting computing 4 years into the future in under 10 minutes (and try to get as many product plugs as possible). That was the challenge today at the Atomic Live Forum held in Melbourne. The panel of speakers included Microsoft's Norbert Haehnel, ASUS' Emmanuele Silanesu & Albert Liang, AMD's Michael Apthorpe and Samsung's Simon King.
Nothing could have gone more wrong for me. I missed the opportunity to chat with Peter Barlow, who is directing the eGames expo coming up. And my voice recorder stopped recording mid-way through the event because someone *unhealthy stare at Simon King* touched the device. So I have nothing more to show than photos, which is definitely a shame.
Pre-show enthusiasm was unmeasurably high.
ASUS had a little product showcase that was only interesting to the people who set it up, and the manager/director who wanted to get a photo of the set-up.

Apparently the two laptops were prototypes, but they looked quite commercial to me.

And that cool red orb? It's nothing. Not a fancy finger printer scanner or a new-age trackpad. Just for looks.

There is a guy looking at me weird on the right.

Most if not all the recipients of prizes were aged above 30, disappointing many young nerds myself included.
The highlight of the whole event. Download the introduction recording in MP3. I strongly recommend you to listen to the audio whilst reading the following introductory joke. Predictions for 2010 by Atomic:

8 cores on a chip. Sorry for the blurry photo. That's eight apple cores on a potato chip.

AMD Testosterone and AMD Optepron

World of Whorecraft and Doom on a Mac

Nintendo Faeces & Flow Control

Snakes on a mother******board.

Microsoft's Norbert speaks. Dot NET is great. Zune > iPod. Platforms interoperability is the future.

The Zune. It's this small. (Or did he say, Apple's market share?)

Samsung's Simon speaks. We have lots of companies. We have lots of money. We have lots of products. All your LCD panels are belong to us. Our factories are big. We're going to make LCDs better. We own displays in 2010. I felt like I just attended Samsung's shareholder meeting.

ASUS' Emmanuele speaks. We are green. We care about mother nature.

We can make cycle diagrams.

We ripped the design of a concept PC from Purdue University.

ASUS' Albert Liang speaks. Everything he said was confidential as noted by his slides. So I can't reveal anything. Honestly. Can't reveal anything.
AMD's Michael speaks. Fast head movements + no Powerpoint = no photos. But he assured us AMD is still making CPUs, and will be in 2010.
In conclusion. One of the better free events I've attended. Better than I expected. But nothing was new or extremely exciting. Australia lags behind when it comes to technology news and announcements. Everyone just regurgitates information that any enthusiast would have read a week ago. And when you invite a lecture room full of enthusiasts to an event, the standard should be higher. Good job to Atomic anyway. Better than nothing.