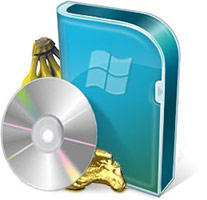 Microsoft is definitely thinking outside the box here. According to an unsourced article in the Australian IT, Microsoft has officially released the local pricing for Windows Vista in Australia. Whilst I find it strange such an article does not quote a source and neither does Microsoft Australia's press site reveal such information, I would presume the leading news publication in Australia does not source The Inquirer.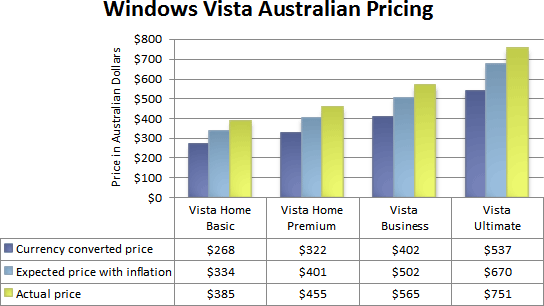 That's a markup of over AU$200 for the Windows Ultimate compared to what the folks in the blue, white and red country pay for. And well over AU$100 markup for the Home Basic version. Where does that $200 go?
According to APC Magazine, Microsoft Australia inflated the price of Windows XP by an average multiplier of 168% for exchange rate, taxes and profits. Windows Vista pushes up the multiplier to around 190%. What happened in the last 5 years?
Is it the exchange rate? In 2001, every Australian dollar was worth below 50 US cents. Now 5 years later, the Australian dollar has strengthened by 50%, and as of today, every Australian dollar is worth at least 74 cents. Definitely not the exchange rate.
Inflation? Well, inflation has been below 3% for the last 4 consecutive years. And even to make calculations easier, presuming the the yearly inflation has been 5%, prices would have only inflated by 25% over the last 5 years. But this would have still been offset by the 50% decrease due to a stronger Australian dollar. So what's left?
Profit! Or mysterious surprise! Either Microsoft Australia is trying to juice the Australian public bad or they're hiding a gold nugget in every box of Windows Vista. I'm betting on the latter. And that's why they have yet to publically reveal the product box design for Windows Vista, because it's going to have a special case for the nugget. Or, maybe this is the Windows Ultimate Extra surprise they've been talking about?
Update: I've just received an insider tip from a paper clip that a kilogram of bananas are also bundled with Windows Vista, setting the value of Vista well beyond its recommended retail price.