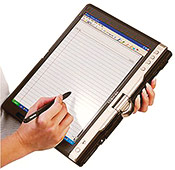 I've had my tablet PC for over half a year now, and apart from the few things you can do with it; like drawing little stick figure men on top of your lecture notes, I've found it comes in pretty handy when you have to do an oral presentation.
In the past, oral presentations has always included a deck of cue cards and sometimes large pieces of A4 paper that you would juggle in your hands and sometimes 'accidentally' drop all over the floor so you can buy more time, hoping the recess bell could come at least 30 minutes earlier. But with a tablet PC, you can doodle your problems away. Of course, having a $3000 machine also means you'll want to hold onto it firmly, but if you do happen to drop it, I can promise you it'll buy you lots of time and grief.
Here are some of the reasons for using a tablet when giving a presentation:
Unlimited pages – Don't be limited by the amount of forests you have in your country. You can give a 5 minute presentation, or a 50 minute presentation. No matter how much material you have, you'll be sure you can fit it all in the palm of your hands, elbow and arm.
Easy to navigate – All tablets have 'tablet buttons' on the side of display panels, so you can easily scroll up and down pages without touching the keyboard or mousepad.
Easy to view – Whether you like your fonts big, colored red or white on black, you can customize your notes to whatever you're comfortable with.
Lit screen – Ever presented in a hall as well lit as the bottom of your bed? In fact. You can even turn off the room's lighting entirely, so your Powerpoint can look great on the projector. Whether you like it bright or dim, you have control over the brightness of your screen.
Better than text – Put in videos, diagrams, artwork to help you remember and regurgitate information. You can even play a YouTube video beside your notes if you want. And even better, turn the screen around so everyone can see.
Portable – On the moon, which weighs more, a tablet PC or a piece of paper? Well if you're on the moon, I don't think you'd care. But on Earth, you can hold a tablet in one arm with ease. Just remember to detach any accessories like additional battery packs to save weight, and your arm.
Cool factor – It looks cool. And you'll probably score a few extra marks.
Network projector – Using Windows VIsta, you can control a projector wirelessly giving you greater control of presentation. You'll never have to look behind to see if you're on the right slide or not, and even annotate your slides as you progress. Why? Because you can.
Of course, the only thing stopping students from accessing such a great learning device is the $1000 'tablet markup'. Maybe someday tablet PC manufacturers will stop being greedy and recognize they can increase profit by selling more units. There's a thought.
Here's a few tips for those who wants to present with a tablet PC:
Turn off screen savers – You wouldn't want your screen blacking out during a presentation. Remember to disable screensavers and monitor energy saving features before you present.
Use the Reading tool in Microsoft Office Word – Not so handy on the desktop, but great for presentations. You can format your entire document with larger font sizes using a few clicks. And it will scroll entire pages so you won't get lost with where the typing cursor is.