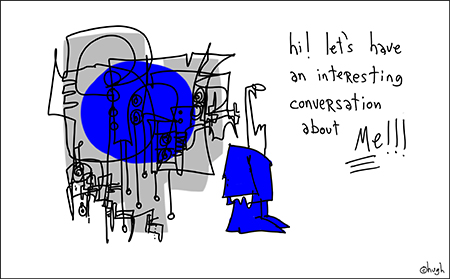 Cartoon by Hugh MacLeod, gapingvoid.
There's a blogsphere fever going around called the "five things you didn't know about me" meme. Basically, every blogger who has been picked writes five things which might not be known about themselves, then publish it with five other blogger's names. Then it goes on and on and on. I've been out of the loop a bit, but since Mauricio Freitas, Chris Haaker and Hugo Ortega have all tagged me, I feel obliged to comply.
I came to Australia not knowing a single word of English.
I've never received a score better than C+ in any of my English classes during primary and secondary education.
I played a lot of and quite well in Counter-Strike.
I'm camera shy.
I've never used more than 50% of any hard drive capacity. (I'll never win this Seagate contest)
That's all from me. I'm going to tag Sean Alexander, Mary Jo Foley, Ed Bott, Robert McLaws and Brandon LeBlanc.
First post in 07. Happy new year. 😉