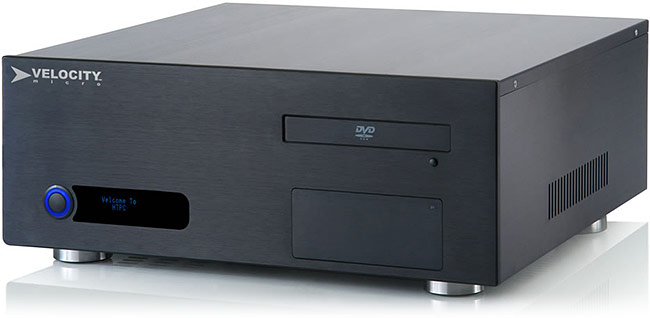 So the moment of truth has arrived. For those of you who missed all the locomotion last week, this is one of the several machines the Free Software Foundation sent out to bribe bloggers with. It comes preloaded with Windows Vista to expose what a terrible operating system it is. Just kidding. Disclosure: This is a review unit from Microsoft.
The machine comes from an unreleased range of Windows Vista Premium-Ready PCs by Velocity Micro, who builds state-of-the-art custom computer systems including gaming, media, office, mobile, business and media center PCs. This is the same machine Chris Morley, director of product development has been touting as the 'ultimate media center' on the Velocity Micro Blog last year.
As I've been informed by Microsoft, some of these review units have been damaged during freight, including mine. This may be a problem caused by either Velocity Micro or DHL. Nevertheless, the problem will be fixed. I've reviewed as much as I can with what I can do, that is turning it on and watching lights blink and fans spin. A replacement unit is on its way.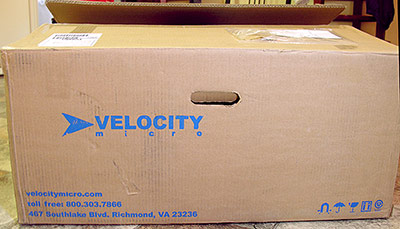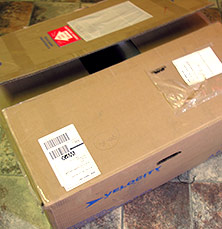 The bigger the package isn't always better.
The first thing you'll notice about this computer, and I mean the absolute first thing, is that there is nothing micro about the packaging. The box is almost a meter wide, and weighs just enough to be carried across a room. If you're a hobbit or intend to carry this home on a unicycle, I would avoid purchasing this.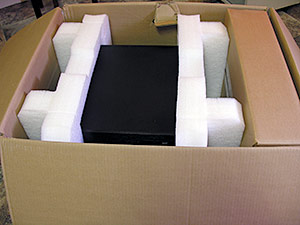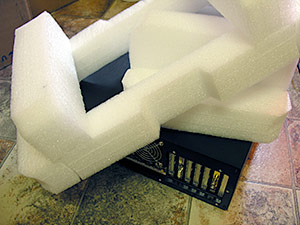 Enough foam to afloat a small island nation.
Opening the box will reveal two foam pieces holding the machine, almost twice the size of the case itself. Velocity Micro tells me this is to protect the machine from projectiles when you're innocently walking down the street with your new PC. They've spent millions of R&D dollars into ensuring the safety of their customers during these times of terrorism.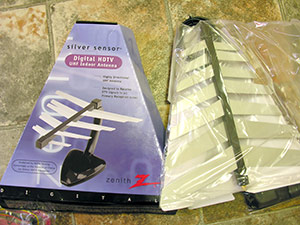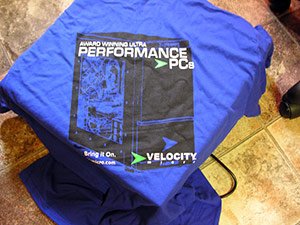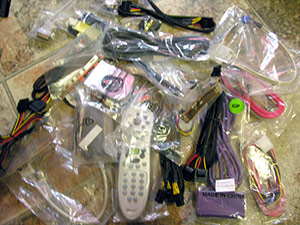 Stuff you get with a PC these days. Makes Dell's bundle looks pathetic in comparison.
Once you get your head around the concept of a box in a box, you'll discover a slim Media Center keyboard, an indoor HDTV antenna, accessories and a bright blue walking-billboard shirt. If you're the type of person that likes building PCs yourself because you get to keep all the manuals and accessories, then rest assured as Velocity has kept all that for you.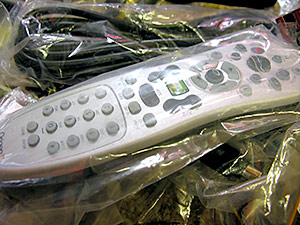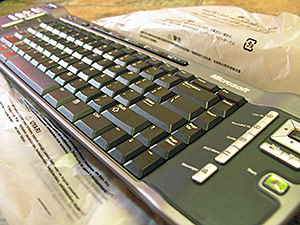 The included remote comes from Origen ae. For a generic Media Center remote, it feels quite comfortable, light and easy to use. You also get a Media Center keyboard. It has low-tactile keys, similar to those found on a laptop, which I like very much. Comes with plenty of buttons to launch every shortcut available in Windows. Also if you're too lazy to use a real mouse, it offers a mini-joystick for awkward mouse movements.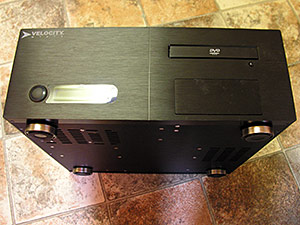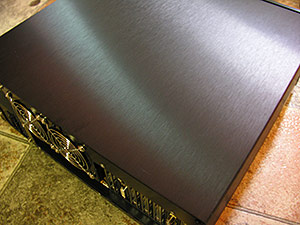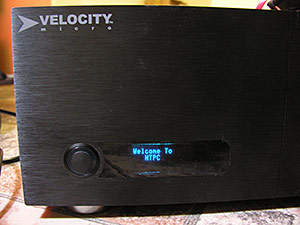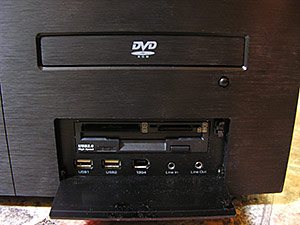 Black is the new beige. "Welcome to HTPC"? At least it's better than "Welcome to the social".
Last but not least, the computer. I still don't know why they call the company Velocity Micro, when the machine is anything but. The case comes straight from Origen ae, the X11 model to be exact. It has a pretty slick aluminum finish which sets the standard a bit higher than your average black box. This is not a tower case, so you'll have to lay it flat for the DVD drive to work. The front panel has a power button, LCD VFD (vacuum flourescent) display, DVD drive and a flip-out cover revealing additional USB, memory card ports and even floppy drive bay for easy access.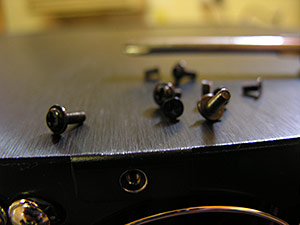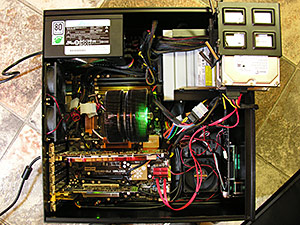 Screws in the 21st century. Call it old fashioned, but at least it's worth it.
Opening this contraption is no easy task. You can't open this case by hand; there are no hand-operable screws. You'll have to use a screwdriver to unscrew 8 tiny screws, which will pop off the top lid. But once you're inside, you'll appreciate the effort. Everything is laid out extremely well, with round ribbons and tied knots. Exceptions to the hard drive bays in these review units, which have come loose during freight and ended up damaging the case and a few other things too.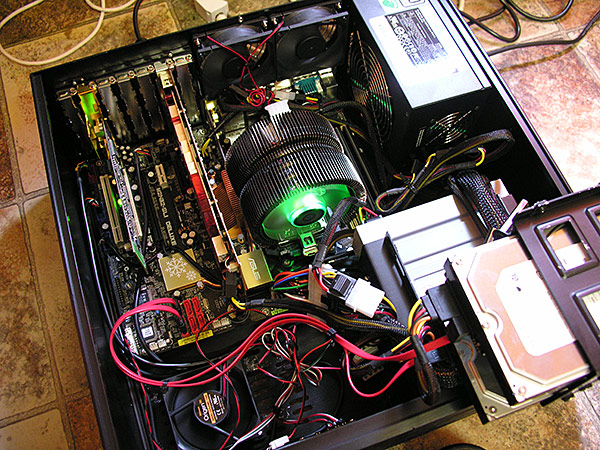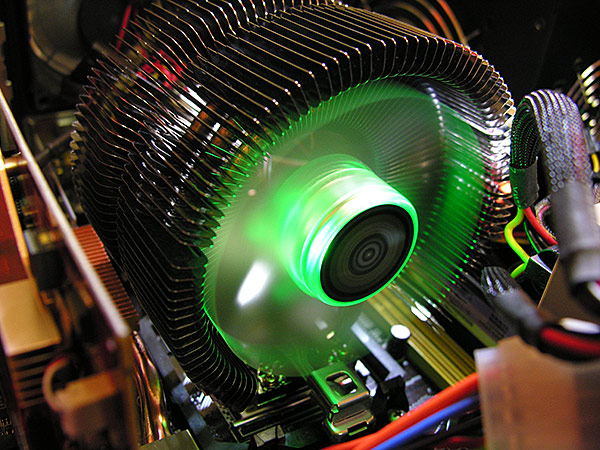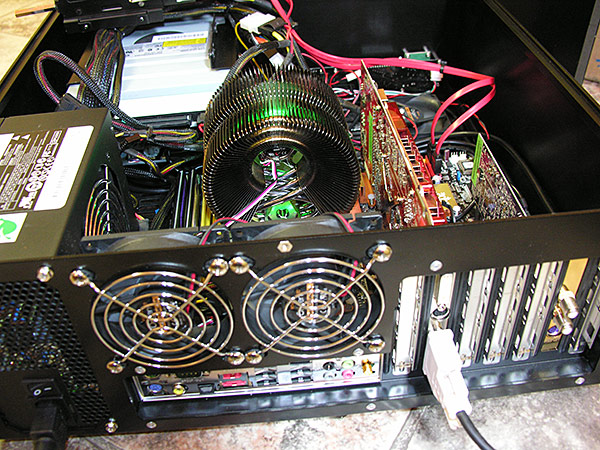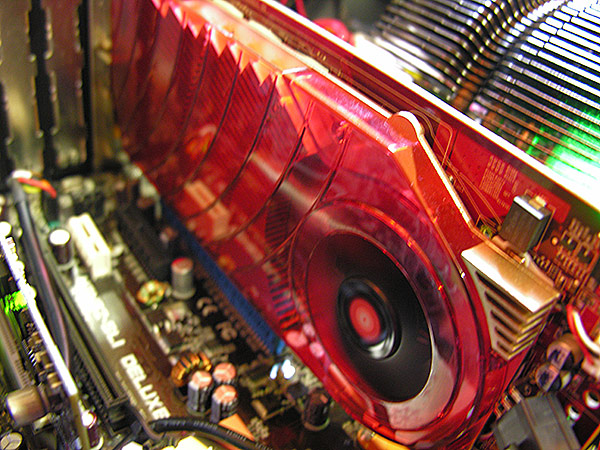 I tried as hard as I could to get it working, replugging some of the more obvious plugs that came lose as a result, nothing worked. I presume there was permanent damage to the circuit boards, as a result, the machine would not POST/boot. But the specifications alone makes you drool.
All in all, this is one of the most powerful and well made OEM computer systems I have ever seen and touched. Unfortunately I couldn't even get it to boot, let alone run Windows Vista. I have no doubt (when it works) that this is one hell-of-a desktop PC, and even more hell-of-a media center PC. The retail price has yet to be released, but I wouldn't expect such premium services to come cheap.
If you want a Windows Vista Media Center PC for flawless gaming, enjoying high-definition content, multimedia authoring or even Solitaire in 1080p, then I'd hold off any purchases until Velocity Micro starts shipping this powerhouse this month.