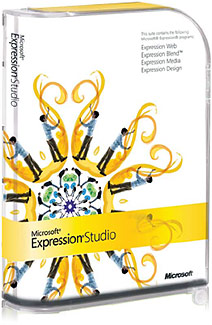 It has come to my understanding Expression, the new suite of Microsoft professional design tools including Expression Blend, Expression Web, Expression Design and Expression Media are all expected to finalize and RTM (release to manufacturing) before April 20 – the start of Microsoft's design-oriented design conference MIX 2007 in Las Vegas.
On March 19, Microsoft announced they will be giving away commemorative copies of Expression Studio to every MIX07 attendee, which could only mean only one thing, the product must be finished, produced and packaged before the event begins. Otherwise a lot of people are in for a spanking.
With less than 30 days to go, that might seem like an overwhelming undertaking to ship four products, two of which are still in beta. Expression Design was only updated to Beta 2 status last week and Expression Blend as a Release Candidate. However the bug count at their respective beta portals suggest both products are progressing extremely well with most new bugs closed within hours if not days. I bet all this makes the Vista team envious.
Ray Ozzie will most likely announce its general availability at the MIX keynote. Expression Studio is expected to retail for US$599.
Update: My best guess is the entire Expression suite will RTM on April 8.