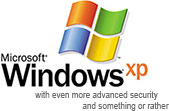 In another week of Paul says, Mr. Thurrott claims on his WinInfo Short Takes article now Microsoft has no plans to ever ship Windows XP Service Pack 3. I'm not going to dispute whether he's right on wrong, but who the hell cares?

What is a service pack? And why is it the holy grail of computing all of a sudden? Microsoft says,
"Microsoft continually works to improve its software. As part of this effort, we develop updates and fixes to recognized issues and release them for customers. On a regular basis, we combine many of these fixes into a single package and make the package available for installation. These packages are called Service Packs."
Great, so a service pack is like a collection of hundred of patches rolled up into one neat executable. History has proven us that's exactly what it is with one exception, Windows XP Service Pack 2, which included enhancements to the operating system beyond what was available in patches. That was done only because it made sense to include such a big modification to the operating system in a package you'd expect to make big modifications sooner than later. To make sense of what I just said, you wouldn't deliver a silent patch over Windows Update, and users the next morning would discover their whole operating system has changed, would you? Don't get smart.

We shouldn't expect anything like that to ever come again. With the increasing popularity of the intertubes and use of Windows Update, we're getting patches in real-time, as soon as they're available. A service pack on the other hand would seem out-of-date. A service pack would only make sense as a long-term solution to update retail copies to include major security fixes.
The only difference service packs has is the inclusion of some hotfixes which target specific issues that aren't applicable to the majority. For example, a Toshiba optical bay may not be recognized when you swap it. Issues like these are common, fixes are available either by request from Microsoft, or the particular OEM will distribute it themselves. A service pack would come in handy for users affected by these problems, but if they're suffering from problems, they would have called support and got the fixes anyway.
I really don't know why anyone thinks they need Windows XP Service Pack 3, or thinks Windows Vista isn't worth using until Service Pack 1. If you want SP3 or SP1, turn on Windows Update, and visit your OEM's website often. Windows XP was still a usable operating system before SP2, it only got better. Windows Vista will without a doubt, continually get better too, but it doesn't mean it's not approachable right now.
Update: From reading some of the great comments on this article, I have this to say… I don't speak for an IT manager, or any group of client users even, I just speak for myself. I'm just a little disturbed by the public's attitude to service packs and whatever benefits they think it will bring to the platform. Obviously I worded my post a little heavy, but I didn't mean to tell anyone what they should or should not think, but only to describe what I thought and why I thought.