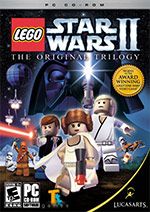 Back in January at CES, I got a copy of Lego Star Wars 2 inside the Vista press kit provided by Microsoft. I've played it and even if you have no interest for Star Wars or Legos, this is an extremely fun game – perfect to entertain children with. It also sets new benchmarks for co-op gameplay, something that I've missed in games for a long time.
Since I no longer need this, and instead of selling freebies (shame), I thought it would be good idea to share something I got for free and enjoyed for someone else to enjoy too.
The winner will receive one used copy of Lego Star Wars II: The Original Trilogy PC-CD still with that fresh plastic scent on the inside. Can't say much about the outside except I've touched it many times with fingers of varying quantities of oil. The disc is in very good condition with only slight wear and tear. This game needs no CD-key so can be easily transferred, but does use SecuROM anti-copying technology developed by Satan himself.

To win, write an essay (at least 600 words) about how cool Long is and how he will one day be rich and famous. Just kidding. Simply write a comment (with your email) speculating what Microsoft will announce at MIX07 in 2 weeks. Employees of Microsoft are advised to enter.
A winner will be drawn at random sometime this week. Postage paid, will post internationally. Contest open to all ages above pi. This contest does not discriminate and invites all Canadian users to participate too, however no Chinese spam entries please. Communism and freebies do not mix.
Update: Whoops. Forgot to select a winner last week. Better late than never. With the help of Josh Phillips, the winner randomly selected is Daniel. If you didn't win, crying is recommended.