What if the Cold War never ended, asks Massive Entertainment. A smartass might respond with "what a stupid question, of course it ended.", but that would have destroyed the whole premise of making a kickass and thrilling massively multiplayer online real-time strategy (MMORTS) game.
There are games where you have to watch the high definition trailer to appreciate, and there's the game where you know it's a winner just by reading the back-story. You drive cars (and motorbikes), "Project Gotham Racing 4", is the former. The war comes home, "World In Conflict", is the latter.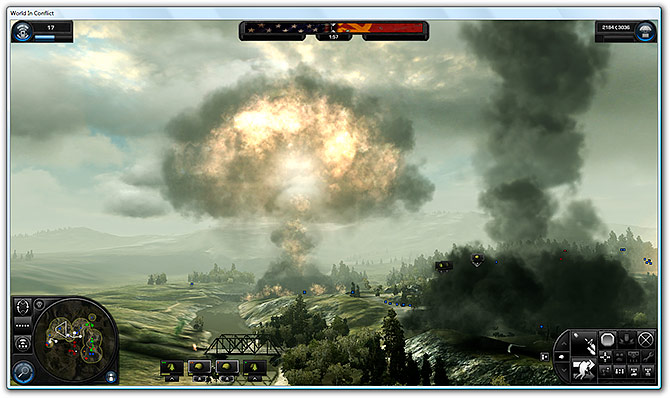 Yes that's right, I'm actually showing off most of my units being obliterated by a nuclear bomb, I'm that proud. No one said a compelling story can't look good either. I'm running the game on medium graphics setting for smoother gameplay and it is still absolutely gorgeous to look at, can't imagine what "Very High" and a DirectX 10 graphics card could do.
For those of you frightened by the complexities and technology trees in most strategy games, this is not a complicated game. In fact, I jumped straight into an online match to come first (score) in a match without playing the tutorial, which unfortunately crashed on me. The camera controls are uniquely intuitive, which feels very much like a first-person shooter. Buttons and tooltips flash giving you awareness of things that are happening or should happen so it's no problems jumping straight into.
But back to what makes this game 'tick', the story, is one of those war-fiction scenarios you'd pray would never actually happen, but can't help fantasize what would be like. "World In Conflict" is all about making war feel surreal, a tank battle on a farm, an infantry ambush in the city and the most popular of all, nuclear bombs, anywhere actually. Hey, this is why we play games and not the real thing right? Let's hope what happens on my screen in the screen forever.
If you like online games, if you like co-operative games, if you like team-based games, if you like real-time strategy, if you like Battlefield 2, or if you just simply happens to like PC games, then I strongly urge you to check out World In Conflict. Sign up for your free open beta registration key at the official website, download the client and get ready to go to war. PC release in September 07. Also coming to XBOX 360.