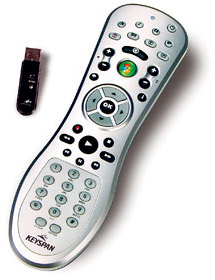 It's been a while since I've ran a giveaway so James Senior, my giveaway nemesis has decided to take this opportunity and host a giveaway of his own. The prize is a RF-powered remote for Windows Vista Media Center from Keyspan.
Normally Windows Media Center remotes, or most remotes for that matter work on the infrared technology. A neat trick to 'see' the infrared is to hold up your mobile phone's camera towards the emitter and press a button the remote. You should see a bright white light because unlike handheld cameras, the lens on a camera phone does not filter infrared light.
The benefit of a radio-frequency remote is that you do not need direct line-of-sight to operate. It can work behind walls and furniture in a range of 90ft (27.4m). Say if you want to change the channel on your living room Media Center whilst in the bathroom on the opposite side of your house, you probably can. Why you would want to is another matter.
To enter in the competition, you'll have to email James with your favorite feature in Vista Media Center. He'll be picking the best answer so it's probably good idea to bribe. I hear he accepts PayPal and Visa, sorry Mastercard users.