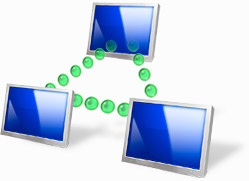 It's rare for a week to go by without a few interesting Microsoft job advertisements. One of which posted last week provides a pretty good idea at how the next version of Windows will improve the wireless networking experience.
Vista was about making Wi-Fi connections as seamless, manageable and secure as wired networks.

The next Windows version is really about taking Wireless networking to the next level by enabling new complete end to end scenarios and experiences that are going to change how windows PCs interact with each other and other devices and nodes over a wireless network.

As a part of the Windows Networking Ecosystem Technologies team, you will be working on scenarios around virtualizing Wireless to allow connections to multiple networks simultaneously. You will be working on enabling new windows to windows connectivity paths within a wireless network to improve wireless throughput and latency. You will be working on wireless-only office and mesh networking scenarios that will make setup and management of wireless networks quick and inexpensive with the goal to reduce TCO for centrally controlled and secured deployments by improving manageability, performance and reliability.

As a part of this work, you will be working closely on existing and in-works wireless standards such as IEEE 802.11s, 802.11k, 802.11r, 802.11w. This position will provide you the unique opportunity of working on core wireless areas as well as collaborating with several other key Windows technologies to deliver a complete functional end to end scenario. The work will be in both the Windows kernel and user space.
Whilst wireless meshing is an exciting feature to look forward to, I think the killer feature will be virtualizing wireless adapters. Currently, one wireless adapter can only connect to one wireless network. Connecting to many networks simultaneously could open up a range of opportunities beyond just performance enhancements.
For example, if you were to set up an ad-hoc computer-to-computer connection right now, you'd have to give up your current infrastructure (computer-to-router) connection. That means you'll most likely lost internet connection as both users are only connected to each other. With virtualized adapters, you would be able to allocate one to your ad-hoc network, and another to keep your existing connection.
That together with wireless meshing technology, this could eliminate wireless dead-spots altogether. Because each wireless client could also become a repeater for the wireless signal (ad-hoc), like ripples in a pond the wireless signal will expand as long as users are within range of each other even if they're well outside the original access point's range.
By the rate I'm promoting these job ads, I should really ask for a job referral commission. 🙂