You've got to give credit to Microsoft for at least coming up with new ways to communicate the effects of counterfeit software, if not, producing these wicked illustrated short movies. For just under a year now, Microsoft has been producing a series of these animated movies, "Genuine Fact Files", aimed at demonstrating how counterfeit software can have devastating effects on the life of those who purchase them.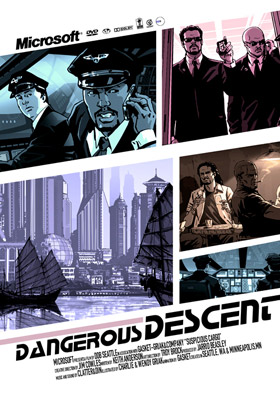 The latest of these comic-style movies is called "Dangerous Descent". It features the story of a pilot who has been pressured by a friend to purchase some Microsoft software from street shops in Shanghai – a story most of us can relate to. Unknowingly, he puts himself, his friends and even his marriage on the line. This suspense thriller will put you on the edge of your seat until the very last second. Rated M for mature.
[flv:dangerous_descent.flv 670 376]
In case you were wondering, this is the wonderful of creative agency DDB Seattle and illustrator Charlie Griak. Charlie's work has been officially selected in two international film festivals and featured in many animated commercial. He's also worked on one other movie in the Microsoft campaign called "Suspicious Cargo" and features a similar tone and illustration style. You can view that on YouTube here.
You can find wallpapers and videos for more of these "Genuine Fact Files" at the Microsoft website.