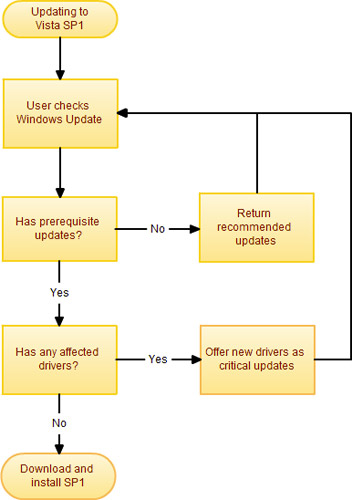 It appears the roadblock preventing Windows Vista Service Pack 1 from being made publically available when it was released to manufacturing two days ago is a deja vu of the same but less severe problem that also happened in 2004 with Windows XP Service Pack 2.
The problem then affected a very particular ATI graphics driver and Dell Bluetooth driver which resulted in loss functionality after installing XP SP2.
The problem today affects an identifiable set of drivers which too results in loss functionality after installing Vista SP1. Both of which will require driver updates prior to the service pack install.
"What happens is during the update, the sound and video components are disabled, and in the process the drivers are accidentally removed."
At the moment there is no precise list of drivers which are affected. Some but not all audio driver(s) from Realtek, graphics driver(s) from Nvidia and network driver(s) from Intel are believed to problematic.
Over the next 30 days, Microsoft is going to work on a preemptive measure to identify which drivers are affected and prevent users with those drivers from installing SP1 until they are cleared. At the same time, they will also be knocking on the doors of many hardware vendors to make sure a driver update is available before SP1 is released. When available, those new drivers will be offered as critical updates in Windows Update to make it for easy for users to overcome the problem without scourging through vendor support websites.
Knowing that, still wished those of us who can take a chance and worst comes to worst, reinstall the driver after applying the service pack, can do so without the Windows Update crossing lady who's not coming until March.