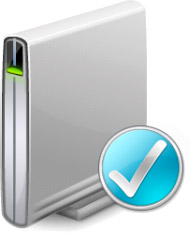 During the betas, one of the few new functionality Windows Vista Service Pack 1 added was the ability to create a Windows recovery CD with an easy-to-use GUI interface. Up and until then, it was slightly harder but still possible to do so through a command line. Update: To avoid confusion, this is not the type of recovery discs you find in prepackaged computer systems. This recovery disc does not reinstall Windows, it merely offers tools to fix it if it ever becomes unbootable.
Whilst all Vista install DVDs include the recovery functionality natively, it's probably useful to burn yourself a spare copy to take with you. You can also download an ISO from NeoSmart.net but you might not have bandwidth to spare.
For unknown reasons, the functionality was then pulled out of the final release of SP1. If you look inside your system files, you can still find recdisc.exe which is the utility's executable, but clicking on it does not launch anything. The shortcut in the Start Menu was also removed, indicating it was removed on purpose.
Out of curiosity, I decided to find out if by copying a version of recdisc.exe from a beta build of Vista SP1 and placing it in SP1 RTM would work. Thanks to Chris123NT for digging up a copy, it did work. If you also want to make it work, there's a bit of file permissions involved, so here's how.
Step 1. Download a pre-final release of recdisc.exe (x86 version) or (x64 version).
Step 2. Open your system32 directory. Start menu, type "%systemroot%\system32" and click Enter.
Step 3. Find recdisc.exe, right click on it and click "Properties".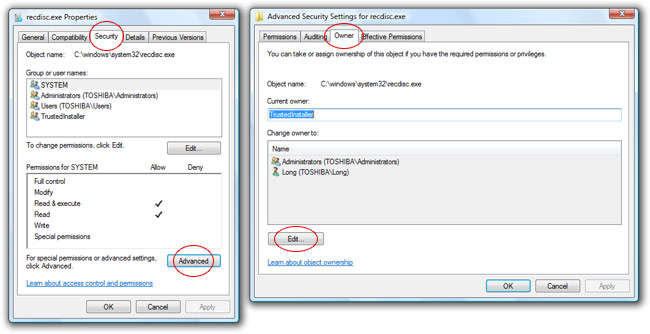 Step 4. Select the "Security" tab and click "Advanced".
Step 5. Select the "Owner" tab and click "Edit…".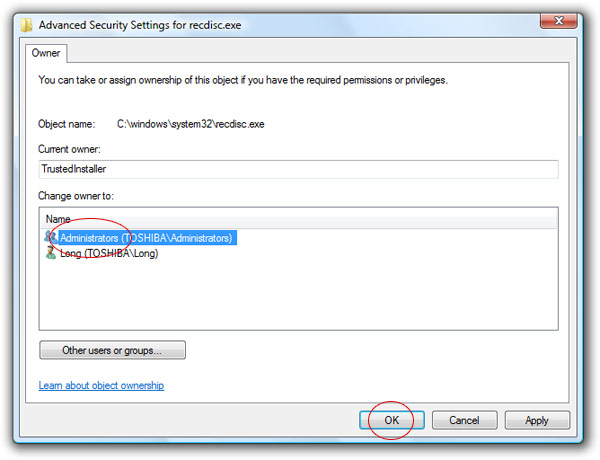 Step 6. Select "Administrators" to change the owner to, click "OK". Click "OK" again on the dialog.
Step 7. You should be back at the file security settings dialog. Click "Edit..".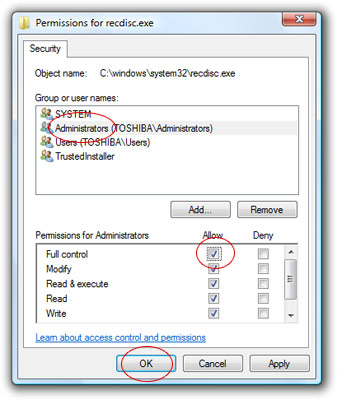 Step 8. Select "Administrators" and then tick the checkbox under the "Allow" column and "Full control" row. Then click "OK". Click "OK" again to finish.
Step 9. Rename this file (press F2) to something like "recdisc.old" to keep a backup of the original file in case you need to restore it in the future.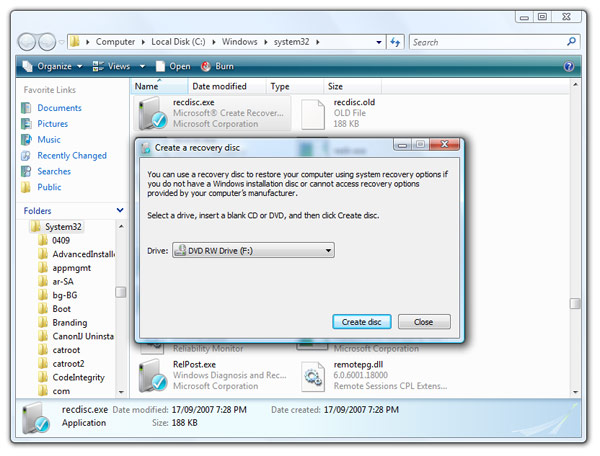 Step 10. Copy the "recdisc.exe" file you downloaded earlier. Double click on it to run.