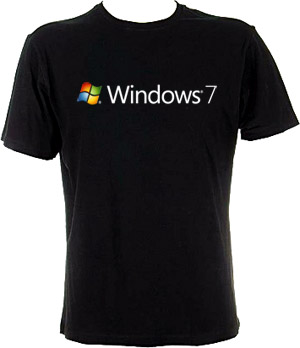 If the Zune guy has taught us anything it's that you should never mutilate your skin to show your love for a product, which is why a shirt is exponentially better. Thanks to Microsoft Australia, I was recently offered forty (40) of these limited-edition Windows 7 shirts, but since one can only wear so many at a time, I'm passing the freebies onto (some of) you, the wider Australian enthusiast community.
Sorry, Australian residents only. Usually I don't limit my giveaways to geographical barriers but because Microsoft Australia is helping me with the logistics (and I thank them for it), this is a necessary limitation.
To enter, first sign up for a Twitter account if you don't already have one. Then tweet what you like most about Windows 7 with the hash tag #win7shirtau. For example, "Problem steps recorder in Windows 7 rocks #win7shirtau". Finally befriend me, "longzheng", on Twitter so I can direct message you if you win. I promise I won't spam you Viagra (unless the economy gets really tough).
To keep the competition fair, winners will be still chosen at random and multiple submissions by one user is counted only once, but creativity is encouraged. Competition closes on Friday, 13th of February 2009 and winners will be notified on Twitter via direct messages (also email notifications by default). Anyone found using multiple Twitter accounts or not in Australia will automatically be disqualified.
Besides the obvious fact it is "new and shiny", Windows 7 comes with a lot of cool new features and improvements so I'm sure you'd have no problems thinking of one, if you have tried it that is. If you haven't, it's not too late either. You have until February 10 to register for the free public beta and February 12 to download it. Head over to the TechNet Australia's Windows 7 Beta site for more information.
I have noticed these shirts have four holes on them, but I've been assured by the manufacturer it is by design. 😛
Update: The winners have been selected and notified. If you didn't win one, consider printing your own.