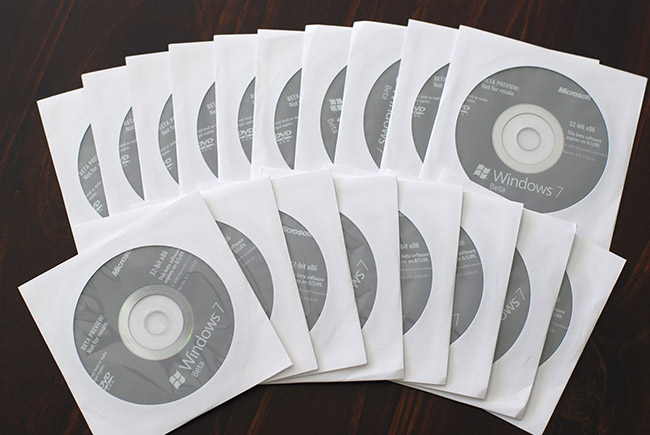 In my recent travels to Microsoft Australia in Sydney, I've recently inherited a small fortune of Windows 7 Beta (32-bit) DVDs. After many failed attempts of building a "house of cards" out of fifteen of these DVDs, I've come to realize that this is simply too many Windows 7 Beta DVDs for one person.
Now that the public Windows 7 Beta download from Microsoft now officially closed, these DVDs are a great way to try out Windows 7 Beta if you haven't already without resorting to filesharing websites or a friend of a friend's uncle who works at Microsoft. On the other hand if you already have Windows 7, these also serve as great coffee mug coasters and ninja throwing projectiles.
If you would like the chance to win one of these DVDs mailed to you (international readers welcome), please send an email to [email protected]. The email can be blank, contain a quote from Einstein or a picture of your cat – it doesn't matter. Fifteen (15) winners will be picked at random on Friday 27th February 2009 (Australian time). Product keys are available separately from the Microsoft website.
PS: I have been and am currently still on holiday. Regular programming will resume Saturday 28th of February 2009. If you would like to see where I've been, have a look at my Flickr stream.
Update: The contest is now closed. The winners will be picked and contacted shortly.