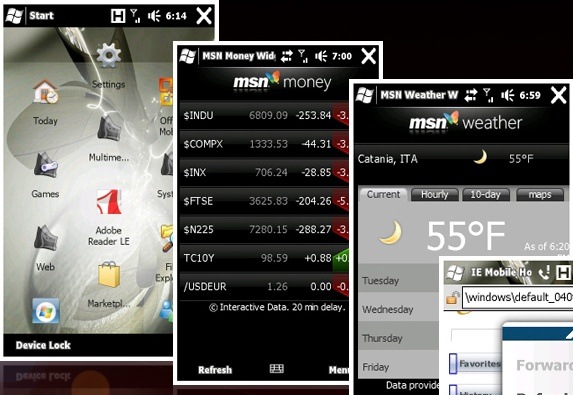 Screenshot credit: www.wmpoweruser.com
In what might appear to be the perfect definition of irony, the iPhone's first and hastily-forgotten application development platform built on top of simple web technologies – HTML, CSS and AJAX (Javascript) – is being newly introduced as "widgets" to Windows Mobile, a mobile operating system that embraced native third-party applications since day one.
WMPoweruser.com is reporting these "widgets", predictably packaged as .widget files – a set of compressed HTML, CSS, Javascript and graphics files – can be launched from the Start menu to a chromeless version of Internet Explorer Mobile 6 with all of its upgraded AJAX-capability goodness. Some widgets that are already bundled in leaked builds of WM6.5 includes a Live Search widget, MSN Money stock widget and MSN Weather widget, and they don't look half bad if not better than most Windows Mobile applications out there I might add.
Now, as backwards as this move might seem, I think Palm said it best when they announced the Pre and its new operating system webOS, "…there's 10 million web developers out there…and every one of them can develop for this platform". Don't forget what was possible with web applications on the iPhone.
As a web developer myself, Windows Mobile 6.5 is building momentum to be a worthwhile release after all.