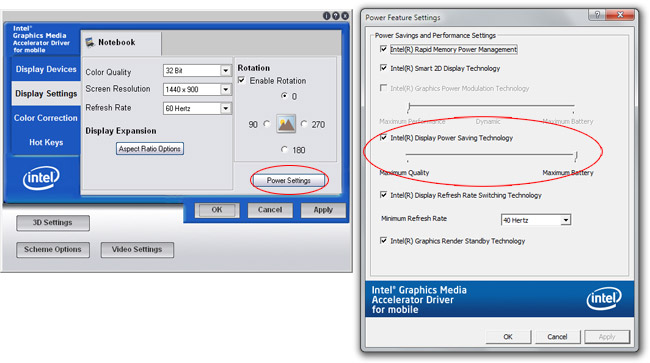 In all seriousness, for a short while, I actually thought there was something wrong with my eyes. As it turns out, "smart" power saving technology by Intel was not only fooling around with my display's image quality, but also fooling around with my perception. If technology today can make you doubt reality, this is the closest I've come to it.
The mystery started this morning when I noticed on my laptop with a recent install of Windows 7 the colors weren't quite right. The most obvious symptom was that when I started Firefox 3.5, the toolbars gradually faded in contrast over the period of about 3 seconds. Text became harder to read, pictures appeared discolored. I knew at least static colors in the UI should not change, but it didn't stop me doubting Firefox. I started noticing similar symptoms in other applications too.

Left: Standard Firefox toolbar. Right: Simulated image of Firefox toolbar with discolored effect.
In the hour that followed, I fiddled with applications, color profiles, color calibration tools and many versions of display drivers until I almost decided to format and reinstall. Whilst the new Windows 7 color calibration tool might seem like a very appropriate tool for this problem, it was a lost cause for me since after calibration the problem crawls right back, like if it was a mutating virus.
What pushed me over the line to doubt my eyes and my color perception was the fact that two screen captures of what appeared to me as obviously two different colors matched in a image editor. Just like those optical illusions where two colors appears different turn out to be the same, you're forced to admit an error in your own perception.
To get to the point, I was not wrong. The colors of the toolbars did change, but at the same time, they match too. The magic behind this is a feature secluded deep in the depths of the graphics settings called the "Intel Display Power Saving Technology". It's a power saving feature in Intel's latest range of mobile graphics chips which is described to reduce power consumption by "altering the brightness and contrast of the display". What it did was it dynamically tweaked with the brightness and contrast combination like a sea-saw based on what is being displayed on the screen. This was why the toolbars changed in color when I visited different sites, and why it also matched when put side-by-side.
Intel, whilst this idea is noble in cause, it deserves no right to be turned on by default and tuned to "maximum" like it was. The before and after comparison might be subtle enough, but it was enough to drive me and my eyes crazy. No power saving feature should actually distort people's perceptions.
I'd encourage everyone using a laptop with a recent Intel graphics accelerator to disable this power saving feature. Your eyes will thank me for it.