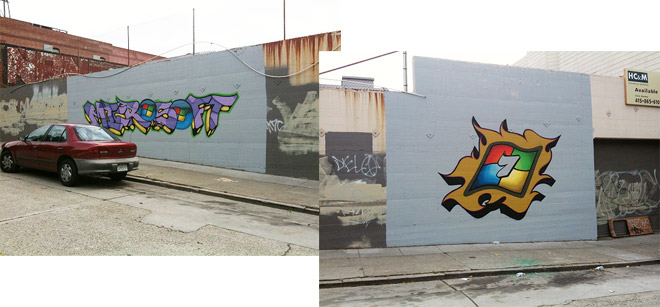 Photo credit: Ross Harmes on Flickr
Obviously unicorns and bunnies would have never clicked with the hip-hop community which might explain why Microsoft has sprayed a derelict wall with two giant pieces street art spreading the cool that is Microsoft and Windows 7 in downtown San Francisco sometime last week.
From what I can put together with different accounts of this from several Flickr photographers, the presence of studio lighting equipment suggest this is a planned photo or film shoot for what should be the Windows 7 advertising campaign.
Although I'm generally not a big fan of street art and Microsoft is no stranger to being caught and fined for illegal corporate graffiti, I must admit the flaming Windows 7 logo is quite cool and I wouldn't mind seeing that on a T-shirt perhaps. Hopefully they learned and got permission this time.