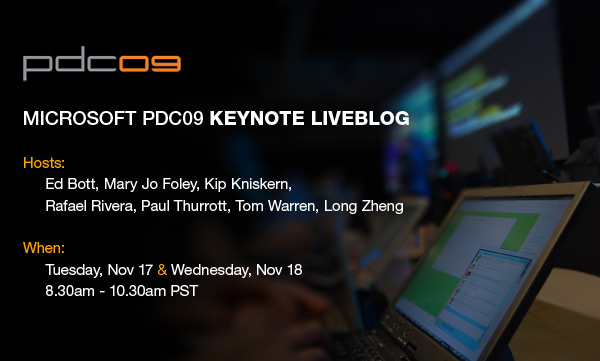 The event of Microsoft events, Professional Developers Conference is being held again next week in Los Angeles and you're all invited to the virtual house of fun that is the keynote liveblog.
Following the overwhelming response and success of the last year's (multi-site) group liveblog experiment, the cast and crew is signed up again for season two including Ed Bott, Mary Jo Foley, Kip Kniskern, Paul Thurrott, Rafael Rivera, Tom Warren and yours truly. In addition, we're also taking aboard the feedback we heard from last year to make this even better.
The two keynotes we will be liveblogging are on Tuesday 17th of November and Wednesday 18th of November, both from 8.30am to 10.30am Pacific Standard Time. Please check back on this blog on the day to find the CoverItLive viewer.
Of course there is considerable doubt this year's keynotes can match the caliber of last year's announcements, but it is PDC after all and I don't think Microsoft can afford to not impress.
Update: Outlook and other calendar application users can download a convenient ICAL schedule here.
Disclosure: I am attending PDC09 as a guest of Microsoft Australia.