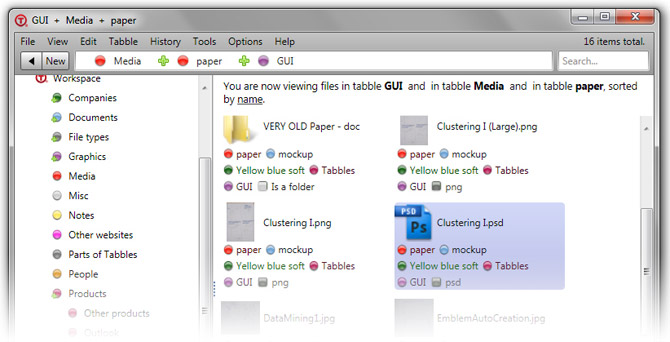 Almost four years after the WinFS project was effectively canceled and the dreams of many demoralized Microsoft enthusiasts shattered, a small independent software development firm called Yellow blue software (or Green software for short) is reigniting a fragment of the WinFS vision in a well polished and lightweight Windows software called "Tabbles".
Simply put, Tabbles is a relational file management tool designed for the Web 2.0-era. It allows you to organize and find files not just by folders but by tags and relationships – one of the many unfulfilled promises of WinFS.
The reason why relational file management is compelling is the fact that files in a file system usually have more meaning than just the folder they belong to.
One dilemma most computer users have probably encountered since DOS is not knowing which folder a document should be stored under for convenient access. This also happens to be the problem the Yellow blue software founders frequently ran into which inspired them to create Tabbles late 2008.
Although I do think the idea needs to be more integrated into the Windows shell to really work well (maybe what Windows 7's Libraries should have been), nevertheless if you ever wanted to get a taste of what a WinFS-powered Windows Explorer would have been, then take a look at Tabbles. There's even a handy portable version that requires no installation for a quick snack.
Additional reading: The developers have an insightful post detailing the evolution of their GUI design for Tabbles that's well worth a look for any UX enthusiasts.