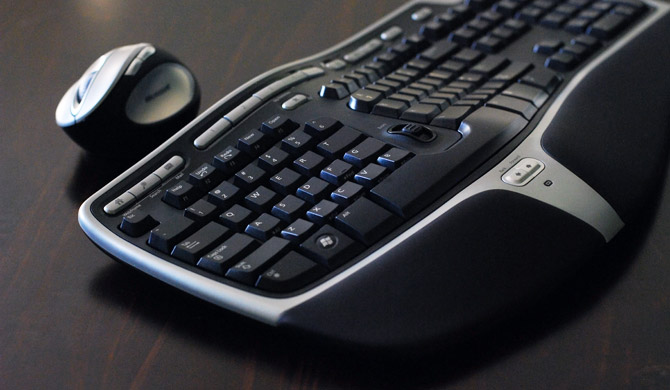 Admittingly I spend too much time in front of computers, but the thought of using an ergonomic keyboard or mice has never crossed my mind.
A couple of weeks ago I met with Dr. Dan Odell, an ergonomist at Microsoft Hardware, who after describing the risks of repetitive strain injury (RSI) and ergonomics, insisted I should just try them for myself. Being a doctor and all, I took Dan's advice.
The desktop set I've been trying for the most of this week is the Microsoft Natural Ergonomic Desktop 7000 which includes the wireless version of the Natural Ergonomic Keyboard 4000 that I've since learned to be used by numerous people I know.
What surprised me first was how "right" the keyboard felt. From a glance, the aesthetics of it was a little unsettling, but for the same reasons it looks like a mini volcano on my desk, the huge resting pads and curve makes it practically relaxing for my hands to rest on. I was also equally surprised at my typing speed which was entirely unaffected by the tilt and huge bulge between my hands. My fingers are none the wiser.
Whilst the transition to the mouse wasn't equally as transparent, it was nothing a little practice couldn't get over. The tilt of the mouse, which is what makes it ergonomically comfortable to grasp, meant that a pushing motion with the back of my hand resulted in my cursor moving in the north-east direction rather than directly north. A couple hours later, I was pointing to where I wanted to again with pinpoint accuracy.
Of course, none of that mattered if I couldn't play my beloved PC games. First person shooters and strategy to be exact. Knowing Dan warned me that ergonomic hardware won't suit everyone, so with a hint of pessimism, I loaded up Team Fortress 2 and Battlefield: Bad Company 2. I'll just say if scoring first over several rounds isn't enough proof it works rather well, then I don't know what is.
But perhaps the best indication of just how much I enjoy this is the fact that switching back to my old keyboard and mice feels like a downgrade. It's alarming how I used it for so long and not realized how downright uncomfortable it was.
When Dan first told me people who switch to ergonomics rarely switch back, I didn't believe him. Boy am I late to this bandwagon.