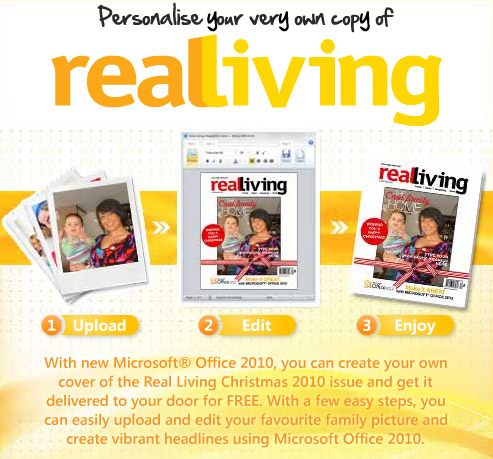 When's the last time an ad gave you a freebie made just for you? Well Microsoft Australia has a cool new ad campaign for Office 2010 that not only lets you customize a magazine cover with your own picture and message, but they'll actually print it and send it out to you for free.
Using an interactive pseudo-version of Word 2010 online, anyone will be able to create their own version of the Christmas issue of "Real Living", an Australia home and lifestyle magazine, with their own family picture and personalized messages on the cover professionally printed and delivered to the door.
The result should make quite an unique gift to a family friend, if not, an interesting addition to the coffee table library.
Although the connection to Office 2010 is arguably weak, some basic formatting options carries it just over the line. Having said that, credit where credit is due for coming up with an online ad campaign that is not only interactive but productive with tangible benefits.