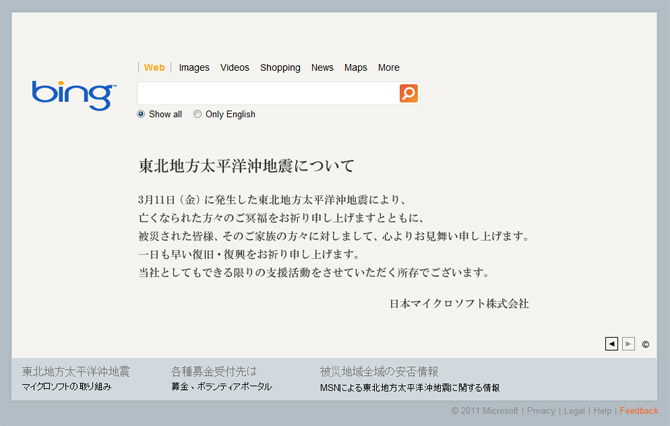 As someone who pays a lot of attention to the Bing websites' image of the day, the picture for Bing Japan today grabbed my attention. Unusually there was no breathtaking photograph, instead, just a humble block of text on a plain background. It turns out to be a message of condolence for the recent disasters in Japan.
Thanks to a translation provided by reader David Warner, who emphasized it was written in a very formal writing style which is difficult to capture in English, it reads as follows.
Concerning the Tōhoku region Pacific Ocean offshore earthquake

May those killed by the earthquake that occurred on Friday the 11th of March rest in peace, and to all those who suffered and to their families, you have our heartfelt sympathy.

We pray for as quick a recovery as possible.

This company will do as much as it can to support the recovery effort.

Microsoft Co. Ltd., Japan
Although this sincere message is trivial in the context of all the relief support contributions from Microsoft, I think it's still a very noble gesture.