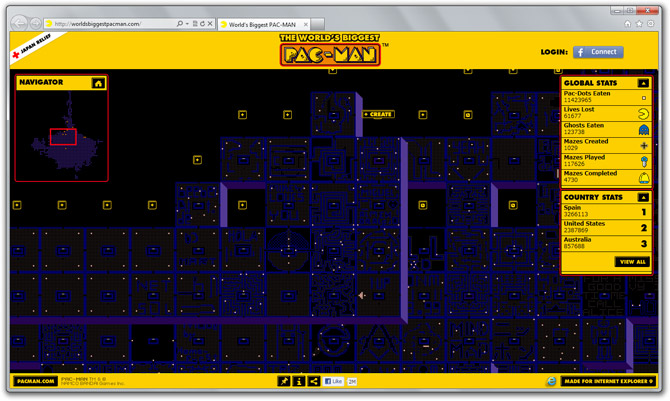 It's only been a day since Microsoft announced The World's Biggest Pac-Man game at the MIX11 conference as a HTML5 demonstration, but nostalgia has fueled more than 118,000 plays with gamers eating more than 11 million dots. Watch out Minecraft.
Adding a new layer to the classic, the website allows users to build and submit custom Pac-Man levels in a shared community that has inspired some interesting and fun designs. Over 1000 mazes have been submitted already.
I had the chance to ask some simple questions to Ashley Ringrose of Soap Creative, the Australian developers who collaborated with Microsoft and NAMCO BANDAI to bring this iconic game with 30 years history back to life in the browser without a plugin.
How long did this take to build?

6 weeks to build although this included many late nights and a long weekend.

Hardest part of the project?

While it seems simple we had a lot of challenges. Browsing, creating and playing the mazes were all like separate little projects, each worked on by a different developer. Tying them together in a simple and fun user experience was tough as was working in HTML5 and optimising for all the various browsers. You don't have the history or community to call on for bugs fixes.

Best part?

Working on a project of this size and with a brand like PAC-MAN was a joy. Everyone believed in it from the start and it was hard for us to stop ourselves wanting to add more features and more ideas.

Working in HTML5 was fun in a way. We went out of our comfort zone and learned a lot in the process. Local storage, WOFF, sounds, canvas, canvas exporting data and even some tricks on how to cache audio all were learned from scratch over the dev period.

We'll also be doing an indepth session on this project at ReMIX11 in Sydney in June.