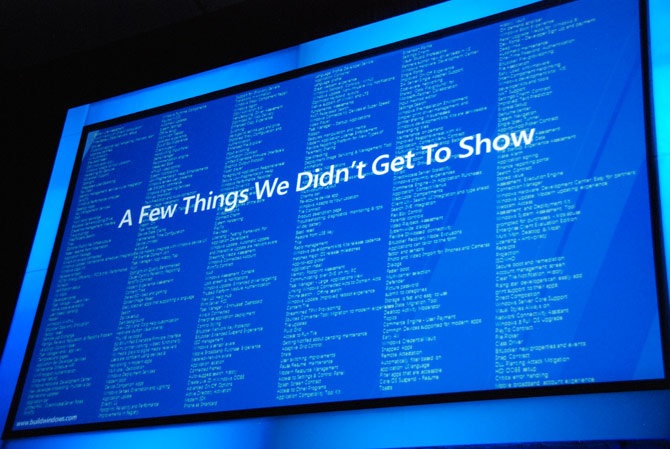 Microsoft may have blew the lids off Windows 8 in the first BUILD 2011 keynote but you can only fit so much in a 2 hour presentation, no matter how enthusiastic Steven Sinofsky can be.
Near the end of the keynote, the presentation included a slide with hundreds of features that Microsoft claim they "didn't get to show". At normal scale, it was a little difficult to comprehend, but with the magic of magnification it reveals a few nuggets.
Here are some of the most interesting ones I could read legibly from the text.
Integrated load balancing – if you have multiple active network connections, Windows 8 will intelligently balance the network traffic between them for performance
Stereo 3D video and gaming – would suggest native support for stereoscopic display output too
Easy discover apps that support a language – would suggest Windows Store will allow browsing by language
Filter apps that are accessible – similar to above, for applications that are accessible
Start background – there will be the ability to change the Start background (not possible in developer preview)
Create Live ID in Windows OOBE – users without Live IDs will be able to create one at the Windows setup
Phone as Smartcard – the ability to use Windows Phone as an authenticator for login?
Communication over SMS on my PC – the ability to send and receive SMSes?
Native support for WIMAX and LTE