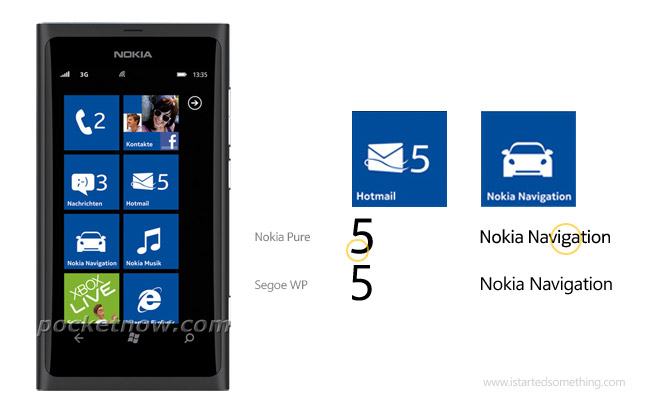 Straight the still-warm presses from PocketNow, some leaked but authentic-looking renders (I believe they're real) of the upcoming Nokia 800 Windows Phone device reveals potentially one of the first platform differentiators for the lovechild of the Nokia-Microsoft partnership – a new font for the Metro interface.
Nokia Pure, Nokia's new corporate font was introduced shortly after the Microsoft partnership was announced leaving many to speculate its applicability on Windows Phone, which up until now has had a strict guideline for OEMs that were not allowed to customize any aspects of user experience. It appears Nokia is now an exception.
With a magnifying glass never too far from my reach, I spotted that the font on the tiles were somehow different to what I was used. Upon closer inspection, the "g" gave it away. It was indeed Nokia Pure.
Although I don't expect Nokia Pure to be the default font forced upon third party apps running in Nokia devices (Segoe WP will most likely exist too), this does makes me wonder what else of the WP7 user experience Nokia may have tweaked, hopefully for the better.
If the rumor-mills are to be believed, more should be revealed at next week's Nokia World conference.
Update: The Nokia Windows Phones that have since been announced do not feature the Nokia Pure font for the home screen nor anywhere else in the OS.