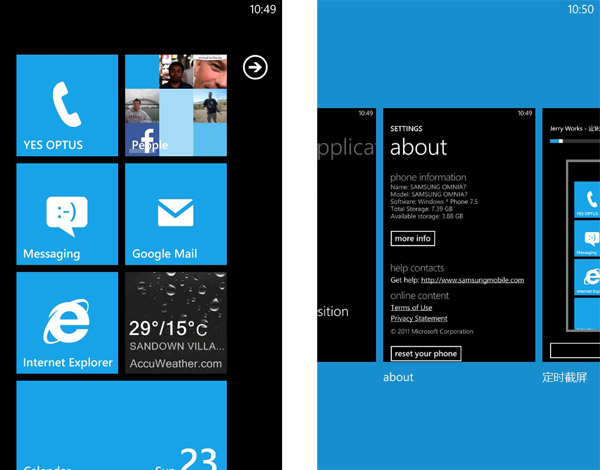 As first reported by WPCentral, An interesting homebrew app came out of the Chinese Windows Phone community recently that enables pro users to finally take screenshots in most areas of the OS.
Although Microsoft has their reasons to not provide a native method to take screenshots, the feature on iPhones has led to almost a monopoly of mobile auto correct-based memes. This homebrew tool now levels the playing field for Windows Phone 7.5 users too.
Contrary to the initial report that this requires an interop-unlocked phone, that is not the case. This tool is claimed to work on all phones according to the author and all it requires is a developer unlock. If you don't have one, you shouldn't have to wait too much longer for the $9 unlock through ChevronWP7 labs.
Unfortunately the developer included an interop flag by accident which prevents it from being universally deployable. I've fixed this by editing the manifest in the XAP and repackaging it. Download my edited XAP here. Go on, share all the Metro goodness.
Update: This tool works by Mango's new scheduled task API. You set the number of seconds (approximate) to wait until it takes as screenshot. Click the button at the button to set and exit the application using the Start button. When the app takes a screenshot a notification will display and the image will be saved in "Saved images" library.
Update 2: The author has posted a new version 3.0 of the tool with even more features, fixing the interop services.