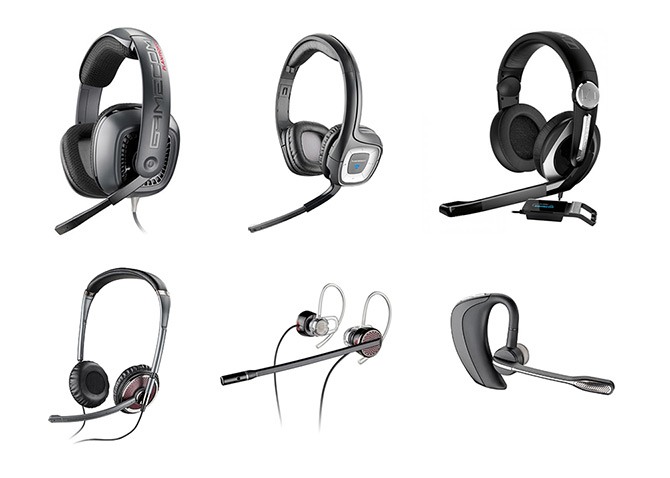 Before the last couple of weeks, it's hard to believe I used to hate headsets. Since then, my desk has been covered from anything between three and six headsets at a time supplied by the good folks at Sennheiser and Plantronics.
Comparing six different headsets at a time wasn't easy and I owe many thanks to those who sat with me on Skype while I swapped from headset to headset, plugging and unplugging any one of the six identical USB plugs. Nevertheless, I was more than eager to jump off the webcam microphone bandwagon.
Since I know it's a privilege to get to try so many headsets at once, I thought I'd post this list of pros and cons I found of each to make the decision easier for anyone else out there looking for the perfect computer headset as well. The first and my current favorite is the Plantronics GameCom 777 for its balance of comfort and sound quality.
Plantronics GameCom 777
+ Comfort: largest earmuffs of all the headsets I tried, does not press against ear, great for long-term use
+ Sound quality: impressive faux-surround with USB Dolby Headphone technology, some bass
+ Price: reasonable USD$99 RRP
+ Microphone: very high quality with good noise cancellation
+ Convenience: inline controls to control volume and mute microphone
– Build: plastic frame presses a bit tightly against head
Plantronics .Audio 995
+ Comfort: light build, reasonably sized earmuffs
+ Microphone: most realistic sounding microphone
+ Wireless: awesome around-house range, flexibility not having to worry about wires
– Wireless: day-long battery life, random output/microphone static with 2.4GHz interference
Sennheiser PC 333D Game
+ Sound quality: best sound output, true 7.1 input, impressive bass, great for movies
+ Microphone: very high quality, subtle deepening radio-like effect, "active listen" mode
+ Design: leather earmuffs and metallic finish
– Comfort: tight fitting ear muffs squish ear, discomfort over long-term use
– Price: a bit expensive at USD$179 RRP
Plantronics Blackwire C420-M
+ Build: office style headset, low profile, light frame
+ Sound quality: decent quality sound for size and profile
+ Portable: easy to pack and go
– Comfort: presses directly against ear, no outer padding
Plantronics Blackwire 435
+ Comfort: light, behind-ear does not press against ear
+ Build: discrete, does not look like headsets, can wear one or both
/ Sound quality: acceptable quality for style of headset, no bass
– Convenience: hard to put on, take off, plastic clip requires manual adjustment
Plantronics VoyagerPro UC
+ Comfort: feels like not wearing headset at all, light, rests comfortably around ear
+ Microphone: best noise cancellation for noisy environments
+ Convenience: auto-sensing answers Skype/phone when worn, tap to answer
+ Bluetooth: can pair with both PC and mobile at the same time
– Sound quality: mono, only practical for voice/Skype, music over A2DP streaming is undesirable
– Price: most expensive at USD$199 RRP