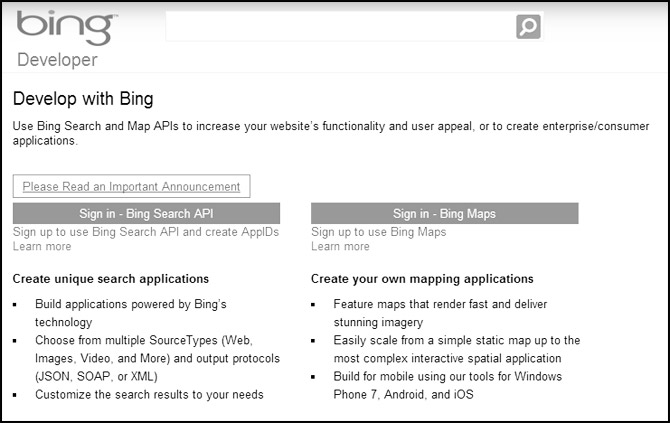 Three years ago I launched my "Real Live Search" experiment to much fanfare and press. When developing the prototype, the choice between Google's and Bing's Search APIs was almost a no-brainer – Bing was faster, more modern and better documented.
Now year later, the search and maps API ecosystem has become a lot more restrictive. What was once free is now not, and quite pricey I might add. With an obvious opportunity to embrace the web developer ecosystem, it's puzzling why Bing seems to be joining Google in shooing away developers.
Earlier today I received a phone call from a company Microsoft contracted to manage the licensing for Bing Maps informing me that I need to sign up for a licensing agreement to continue using Bing Maps in my Windows Phone Speedo Plus app (which is now free, go use the map while you can).
Apparently the reason my app doesn't qualify for the free mobile license is because my app "tracks" user's locations. Although she seemed just as confused as I was clarifying what that means, there was no hesitance when it came to asking me to start paying them money.
The timing of this, just weeks after Bing announced a huge change to their search API strategy and deprecation of the Answers API last year has led me to realize just how desperate they have become to restrict developer access.
Besides the fact that in my own experience Bing's results are still as not relevant or helpful as Google's and the Bing Maps coverage is woefully bad, charging developers a minimum $40/month for any access to search APIs is extremely prohibitive. I certainly wouldn't have launched or even attempted the Real Live Search idea with that in mind. At least Google has a limited free tier.
For a company that has a reputation for embracing and supporting developers like no other, the changes Bing has and will be rolling out for its developer program is pretty much a slap to the face. And for what? Just a few bucks here and there from hobbyist developers?
Even elsewhere at Microsoft, Windows Live has recently made great strides to opening more access to their services and platform to third-party developers. Bing however seems to have lost the plot.