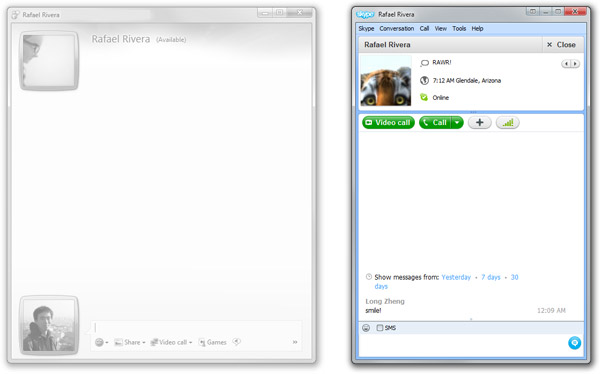 Up until about four week ago, I used Windows Live Messenger almost exclusively. That was until Windows 8 Consumer Preview's "Messaging" integration drove me insane with the lack of control on updates and disabling the ability to send group messages on other computers also signed in.
Because I had been more actively using Skype over the past year (after Microsoft bought it), I started using Skype for instant messaging as well. To my surprise, it's now become my default instant messaging client and here's just a few reasons why I would recommend others to switch too.
Synced chat history across all clients – If you use as many PCs and devices (tablets, phones) as I do, you'll come to appreciate the fact that chat logs aren't stored on just one PC like they are with WLM, but they are in the cloud and automatically synced to any of your Skype clients. You can easily take a conversation from a home PC, to a phone and to a work PC without anyone the wiser.
Easier group chat/collaboration – Group chats on WLM has never been reliable or predictable for me. Sometimes participants can't join, other times they fail. In Skype they just work. The initiator can even remove users from conversations which is always handy. File transfers also work in Skype group chats.
Screen sharing & voice/video calls – Sometimes it's just easier and faster to just show or say what you mean. Even though group screen sharing and video calls in Skype costs extra money, the quality is much higher. Voice for the most part has been sufficient for me in group discussions.
No annoying ads – There are some ads in Skype, but neither as annoying or as intrusive as the ones in Windows Live Messenger today. I cannot use WLM without A-Patch removing the ads.
Better emoticons – Sometimes an emoticon like (hug) is just what it takes to set the mood for an important discussion.
No nagging Microsoft SmartScreen messages – One less step between you and the cute cat pictures your friends want to show you.