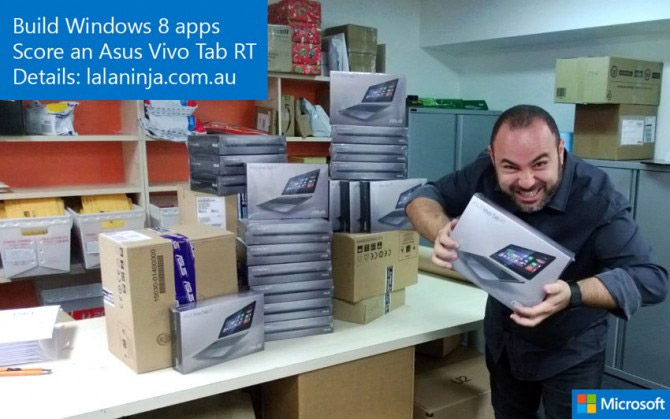 Microsoft Australia today announced a "December of Apps Developer Challenge" on its La La Ninja developer community website. Developers have the chance to win one of 40 Asus Vivo Tab RT tablets. Although the competition seems to make a great Christmas present, it's unfortunate Microsoft is once again promoting quantity over quality for an app development competition.
Like some of the Windows Phone app competitions before it hosted in Australia and around the world, Microsoft is once again incentivising app developers prioritize quantity and speed, over what I'd argue is the hallmark of Apple's app ecosystems, quality.
Since some blogs and even Microsoft evangelists love to spell out the large and growing number of apps in the Windows Store, peeking at a majority of the new submissions on MetroStore leaves much to be desired. (Seriously, some of the apps have the default template cross icon.)
Admittedly this is a problem that affects all app ecosystems, I just think it's misguided that Microsoft's developer evangelists are actively promoting this practice with prize incentives.
Qualifying apps must be published in the Windows Store between December 1st 2012 and 12 Midnight AEDST December 28th 2012.
The sooner you publish your new apps the sooner you'll receive your device. Devices will be delivered within 30 days of accomplishing the challenge.
Publish 4 new apps for a Asus Vivo Tab RT. The offer is limited to 1 Asus Vivo Tab RT per developer.
Apps must be new and published to the public Windows Store, and excludes updates to existing apps.
At a rate of one app per week with absolutely no criteria or judgement of quality factors such as functionality, usefulness and design, the addition of the first come first serve clause makes this pretty much a race to the bottom.
Commenter Phillip Haydon adds, "4 apps in such a short timeline, promotes people to create shit quality apps. I'm really disappointed this competition exists. You should be getting people to create high quality applications that actually benefit end-users."
Well…, David, Winston and I will be working on many updates to MetroTwit for Windows 8, but we'll just have to wish for an Asus Vivo Tab RT under our Christmas trees.
Update: On a serious note, Microsoft knows how to run and has run quality-based competitions. Award winners by people and judge's votes, by ratings or by downloads.