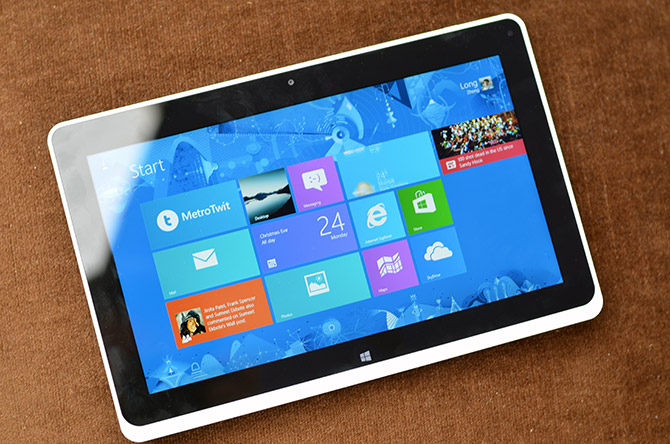 The Microsoft Surface RT may be the poster child for Windows 8 tablets but hardware choice is one of the mantras of the Windows platform. In matrix of tradeoffs between performance, battery and form factor, the Acer Iconia W510 comes pretty close to the Surface RT. With specs to match, I would argue it's even better than a Surface if you're willing to forgo the Touch Cover.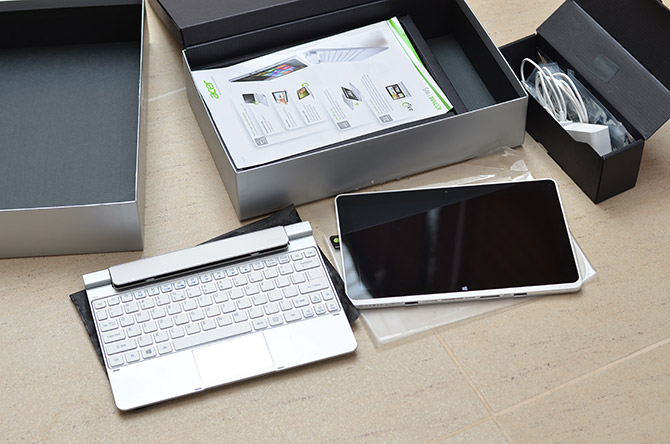 Even though the best name Acer's marketing department could come up with was W510-27602G06iss, the engineering department has done its job. The W510 comes packed with a Intel Atom Z2760 1.8 GHz Clover Trail CPU, 2GB RAM, 64 GB SSD drive, 10.1″ 1366×768 IPS display, WiFi & BT 4.0, HDMI, USB, NFC and more.
Performance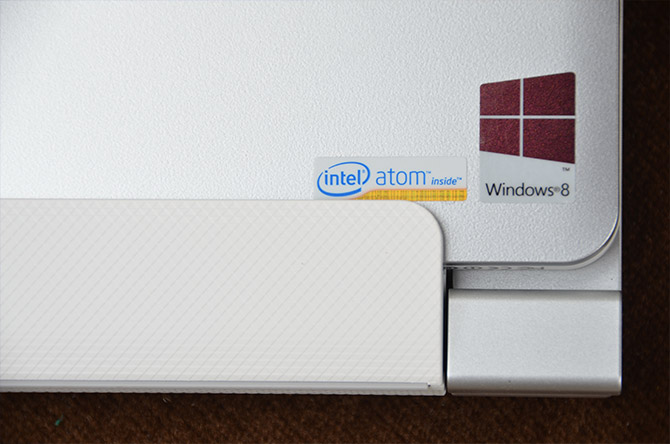 First and foremost on my mind was, can Intel Atom Clover Trail deliver the performance and battery life people expect of a current generation tablet? The answer seems to be a pretty convincing yes. Although I'll leave the in-depth technical wattage analysis up to the fine folks at AnandTech, my experiences pretty much confirm their conclusion – it's as good if not better than a Tegra 3 ARM chip.
Since it's an x86 chip, the W510 runs a 32-bit of Windows 8 (the normal version). This is superior to the Surface RT in the sense that it can run all the Windows 8 Store applications plus any reasonable desktop Windows applications, while not sacrificing any of the battery life as a traditional x86 device.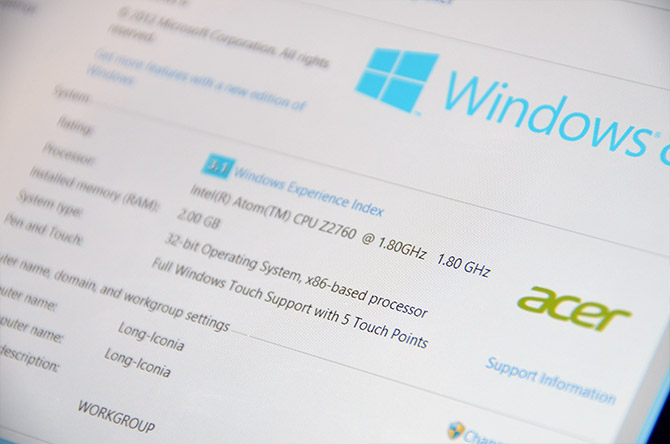 Performance wise, the Intel Atom Z2760 is quite comparable to the Surface RT's Tegra 3 ARM chip. To set the right context, an Atom is still nothing like an Intel Core desktop CPU, but it gets the job done for a tablet. Similar to the Surface RT, Windows 8 itself works very well on it, but some of the apps may be a bit held back. Also don't expect to run any intensive Windows apps and games.
It's also worth noting the 64GB SSD out of box has only about 27GB of free usable space. Approximately 12GB is lost to recovery partitions. The rest is taken up by Windows and some pre-installed Acer apps and tools, some of which can be deleted for approximately a GB of space. It's unfortunate to be limited to such scarce disk space, but the expandable microSD slot allows for a separate media and document store if it need be.
Battery life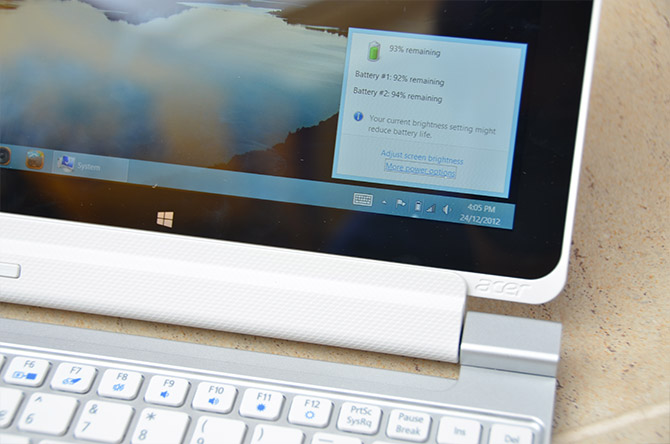 The W510 lives up to the expectations of a tablet battery life with approximately 8 hours of general use on a single charge (without the dock) which is quite comparable to the Surface RT's battery life.
The Atom Clover Trail also supports the new Intel S0ix power management state that enables support for Windows 8's Connected Standby feature. What this means in practice is instant on-off standby and more importantly of all, the ability to receive push notifications and alerts while the device is in standby.
In my own tests, I was alerted to an incoming Skype call while the device was otherwise "off". Emails and messages were also updated in the background similarly.
Dock and weight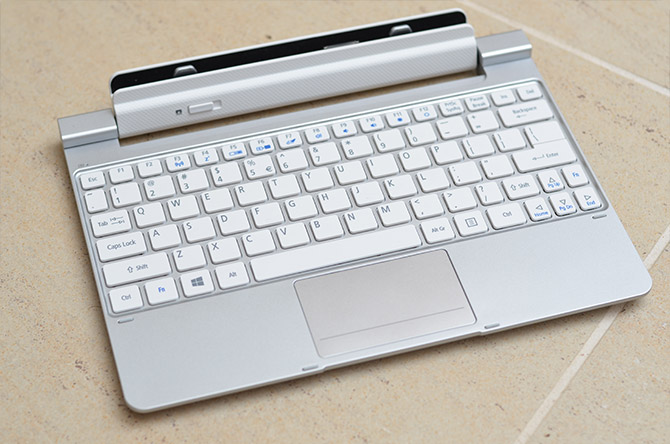 The unique attribute of the W510 is the included docking keyboard and station, but not for its atrocious design. In contrast to the superior magnetic latch design of the Surface, a hinge is undeniably primitive but not without purpose. Since the dock actually weighs more than the tablet itself, its purpose is more than just a keyboard attachment. It's also a second battery.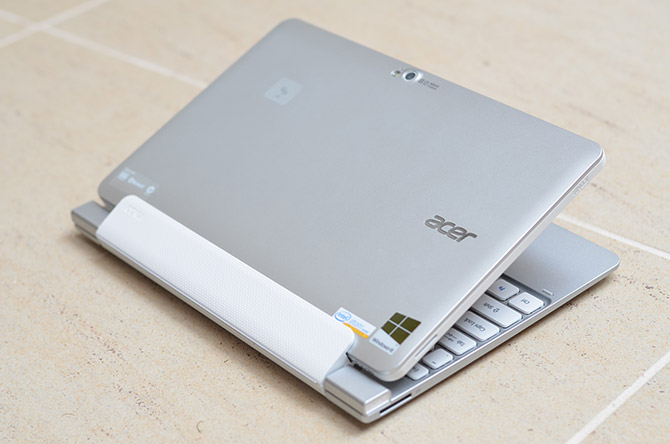 I haven't been able to find out the exact amount of juice in the dock but since the device is rated for 9 hours on its own and an impressive 18 hours with the dock, one can only assume it's the equivalent of a second battery. But all this juice comes with a compromise, weight.
The tablet itself weighs only 580grams and is 9mm thin. This is both lighter and thinner than the Surface RT and to say the least, it feels great. (It's also easier to hold than a Surface landscape with one hand since the screen and frame is marginally smaller.)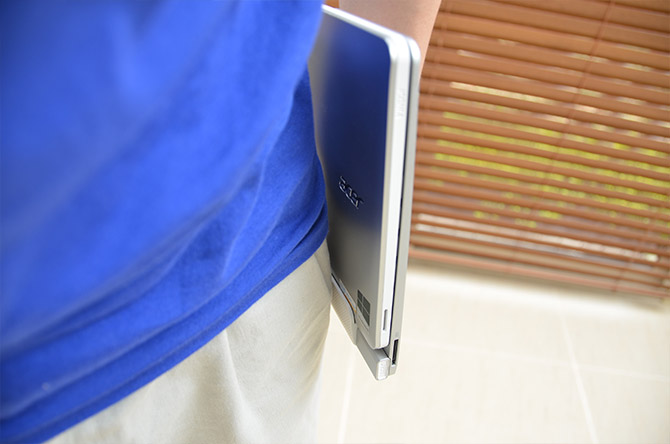 But when you dock/"clunk" it (which is not nearly as entertaining as the Surface), it charts into the Ultrabook territory with a combined weight of 1.28kg. It's still good to carry like a book, but it's no longer as slick as a Surface or iPad.
(There's a different W511 model without the dock, roughly $150 cheaper too).
Weight aside, the keyboard is quite practical to type on but the rudimentary trackpad is relatively redundant since there's 10 inches of touchable screen right in-front. There's also a full-size USB port on the right if you forget to bring the mini USB adapter.
Design and features
Looking at the tablet itself, the W510 is a pretty well-rounded Windows 8 tablet with 5-point multi-touch (the same as the Surface) that is responsive, smooth and jitter free. The frame is finely tapered and comfortable to hold and there is adequate bezel all round for Windows 8's edge gestures.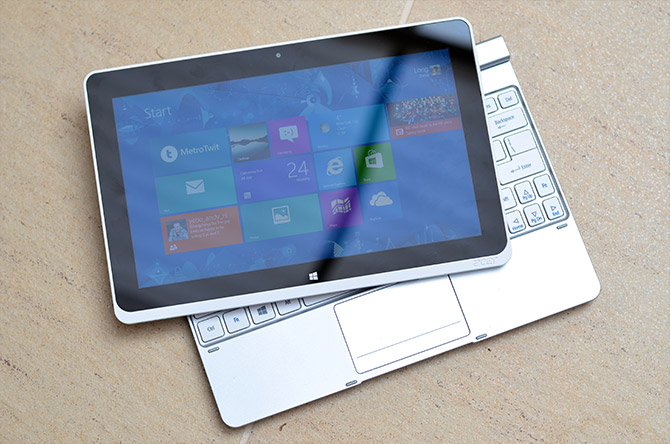 The 10.1″ IPS glossy display has good vivid colours in indoor conditions, but its relatively weak brightness makes it impossible to read under glare or direct sunlight.
Similar to the iPad and Surface, yes Acer also decided to include front and back cameras – 0.8 and 8 megapixels respectively, but unless you like your photos to look like a Van Gogh painting, don't bother.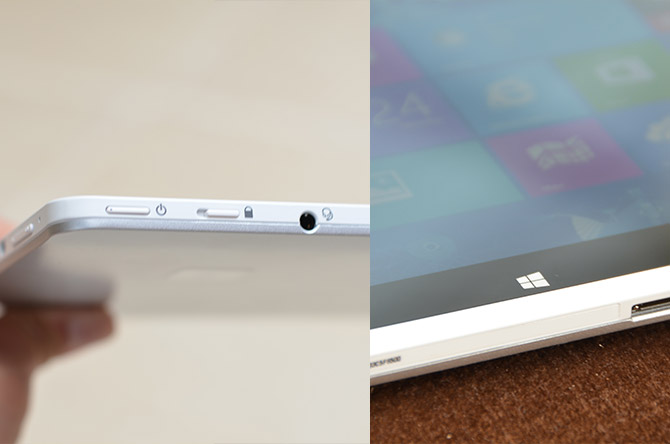 The placement and tactility of the power, volume and screen lock are quite predictable and convenient. Like the Surface, the Start button is also touch sensitive which I personally find issue with for being too easy to activate accidentally.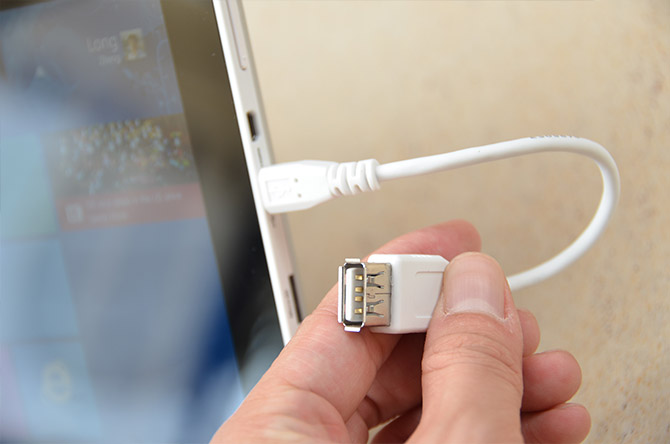 The promise of HDMI, USB and expandable storage all come with a catch. The first and last is respectively Micro-HDMI (VGA converter included) and microSD which are not all that uncommon, but the third, Micro USB is a bother. Even though a Micro to full-size converter is included, you'll need to carry it with you if you ever want to attach a USB accessory.
Last but not least, the power plug seems to be a carbon copy of the older Apple 30-pin connector with all of its issues – bulky to plug-in and one-way only.
Conclusion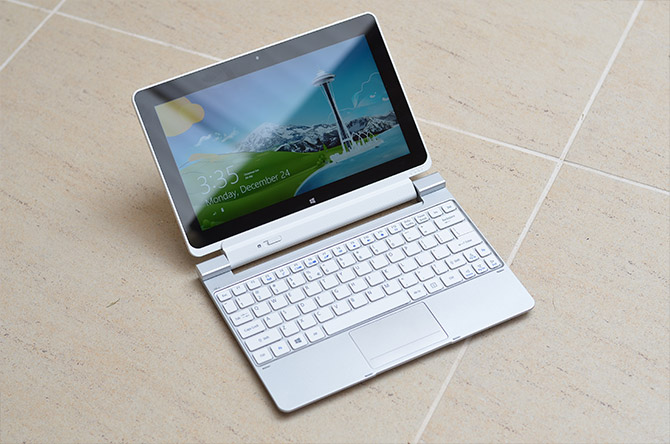 No doubt the Microsoft Surface has sparked a lot of interest in Windows 8 tablets and it's easy to overlook the other options out there. The Acer W510 is a comparable alternative to the Surface RT with a reasonable set of advantages and disadvantages.
If the idea of tablet with 8+ hours battery life and the ability to run some x86 desktop Windows applications is of any interest, then don't look past the W510 with Intel Atom Clover Field. On the other hand if you're looking for a slick keyboard attachment, there's nothing to show off about the dock.
At a recommended retail price of $849 AUD ($749 USD) but cheaper in shops, it's literally the middle ground between a 64GB Surface RT and Surface Pro. The ability to run just one desktop app (Fiddler network debugger) have already paid off for me.
Update: Almost forgot to mention, there's also a 3G version of the W510 which allows for mobile data mobility which the Surface RT can't do.