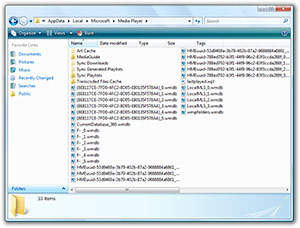 I was having problems with the library of my Windows Media Player 11 BETA. So I searched a way to rebuild/remove the cache of the library data that WMP uses. All of the solutions pointed to non-existing files, which meant Windows Media Player 11 uses a different folder/system than version 10. I kept hunting for it, and then found this.
In the folder "C:\Documents and Settings\**username**\Local Settings\Application Data\Microsoft\Media Player\", several files named after "CurrentDatabase_***.wmdb" & "LocalMLS_*.wmdb" are the cache files for the WMP 11 library.
If you want to fix any library related issues, or just want WMP 11 to reindex your media, simply delete all of these files.