Photos and overview of TechEd Australia Day 1 – Student Day.
Day 0 Preparations

Checking out the auditorium which I'll be presenting at.
Windows Vista and Office 2007

At the Student Day presentation, there was a Windows Vista showcase by Jeff Alexander and Scott Savage. Interesting note, Jeff Alexander used build 5700 (5700.winmain.060810-1900) branched off from RC1. It ran a lot faster than July CTP Build 5472 and had a few UI improvements here and there. Jeff also said RC1 should be coming really soon.

My presentation went pretty well. Obviously I couldn't take any pictures, but some others might have. Hope to see them soon! Thanks to Chris Boulton who took these photos for me.
Home entertainment
A home entertainment demo followed after lunch. There was a short talk about DirectX10, and it was confirmed again that the DirectX10 screenshots are real. Not only did I receive email confirmation from the Microsoft DirectX team, but these guys again confirmed these were real renders from DirectX10. There was also another comparison shot.
Hover over image to see comparison image.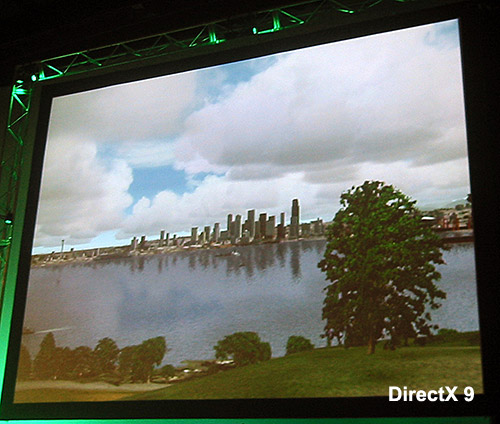 Followed by an Intel presentation. Nothing too exciting. Something along the lines of "We bought out the Core 2 Duos. We totally own AMD."

Behind the scenes "Speaker's Preparation Room". Everyone runs Vista and got a snapshot of the new coloured bootscreen for Vista 5700. Nothing new, except it's got a green ticker bar.
Expo

Checking out the show before thousands and thousands of delegates storm in and ruin everything.

The "Welcome" sign was very interesting, it contained the names (I presume) of all the TechEd attendees who registered.
View plenty more photos at my TechEd 2006 photo set at Flickr.