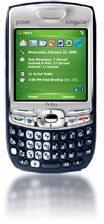 I'm not a Palm customer nor a Windows Mobile user, in fact, I don't even own a smartphone, but I can't help notice the excitement over the Palm Treo 750 and its imminent Windows Mobile 6 upgrade as anticipated by many smartphone users I'm sure. Announced all the way back in March of this year, Palm had promised each and every Treo 750 customer with an upgrade to Windows Mobile 6 "later this year". If smartphone users are anything like Windows users, and if the ROM leak today is any indication, then they shall suffer no longer from next week.
In an official email release for Microsoft Australia's TechEd conference, it writes
Launch of the Palm Treo 750 Smartphone
Palm® and Microsoft will be announcing the availability of Windows Mobile® 6.0 on the Palm Treo™ 750 Smartphone at Tech.Ed. Check out the Palm booth, BP9 for a sneak preview!

Whilst I'm not exactly sure why Palm has chosen TechEd or even the land-of-technological-deficiency, Australia, in particular to host such a major announcement, but I guess it doesn't really matter where they announce it as long as the customers can get their hands on it, and good publicity for both companies too. Palm was boothed at last year's TechEd Australia so I suspect they were happy with the investment.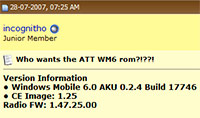 Coincidentally and obviously timed for the same reasons, the AT&T-branded Windows Mobile 6 ROM image for the Treo 750 was actually leaked in the past 24 hours on a Pocket PC and smartphone enthusiast forum – XDA-Developers. You can get a sense of just how desperate the users were after 260 replies and 44,856 topic views in such a short time. Of course Palm has since launched its lawyers at the website forcing them to remove the download, but users won't have to grieve much longer.