My friend Scott Savage has acquired himself a copy of the Office 2007 Beta 2 Technical Refresh, Build 4228. He has discovered all of the new Office icons I've talked about months ago has been implemented in this build. I was right in some areas identifying what each icons represented, but wrong in others. He also have some of the file-type icons for the appropriate documents.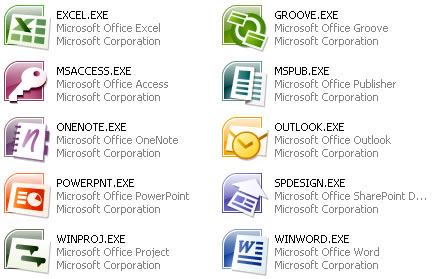 Click above image to see Scott's full post with more icons of the file-types.
Apparently there is a problem with this build's installation procedures on Windows XP. But since he doesn't have Vista installed on any of his workstations, he is unable to test it out. But he did uncover some of the SKU's of Office 2007 in an XML file.
Microsoft Office Ultimate 2007
Microsoft Office Mondo 2007
Microsoft Office Enterprise 2007
Microsoft Office Professional Plus 2007
Microsoft Office Professional Hybrid 2007
Microsoft Office Professional 2007
Microsoft Office Standard Enterprise 2007
Microsoft Office Basic 2007
Microsoft Office Home and Student 2007
Microsoft Office Personal 2007
The most interesting out of all would have to be Office Mondo, which has been believed to be the codename for Office 12, but as an SKU it doesn't make any sense. Mondo by definition could be used to describe something "very large". There is already an Office Ultimate, so what can it be?
Update: Mondo could also mean "a question to a student for which an immediate answer is demanded, the spontaneity of which is often illuminating." Could this be a research tool?
Office Personal and Office Professional Hybrid sounds interesting too. Could Professional Hybrid be the combination of internal combusting word processing and battery-powered spreadsheet we've been all waiting for? We'll just have to wait and see.