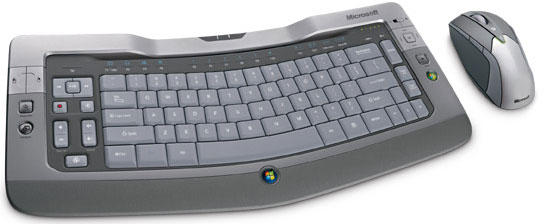 First thing's first. What's up with the name? I thought cyborg names were a distant past of the age of magnetic drives and flashing LED lights. Intel could have continued their 80×86 naming scheme, which would have been up to about 801186 by now, but they went down the Pentium path because they didn't want their CPUs to sound like a model of vacuum cleaners. Product names should definitely come without the list of keywords associated with the product, and even less so, a 4-digit number. I also smell a lawsuit coming up.
Second thing. The design rocks. I'm a big fan of laptop-styled keyboard because the keys are not extruded as much, so you don't have to push your fingers all the way. I have weak fingers OK? Also, they're super quiet, so you can touch type without waking up the neighbours. The thin form-factor is also very stylish, but it looks as easy to break as a wafer.
The price? Who knows. Knowing this is aimed towards Media Center users and technology enthusiasts, it'll cost probably more than it should. But this would work well as a "Vista package" for the enthusiasts, a set of launch products including Vista Ultimate, Office 2007, keyboard and mouse and probably some nifty merchandising. I don't know, just throwing an idea out there.
Update: The retail price is US$249.95. That's going to cost the same as a gallon of petrol by the time it ships. Review sample anyone? 😛