Vinny Pasceri, the Aero Program Manager for Windows Vista, has the daunting task of oversighting the user experience development project. Many people and especially Microsoft enthusiasts do not understand why Windows has so many legacy and conflicting user experience elements, and even why Microsoft will fail to address those issues in Windows Vista.
Vinny explains, "Many people don't realize this but these changes come with a surprisingly high "tax" that goes into updating Icons, changing text, replacing a graphic, etc."
Having said that, Microsoft designers are unofficially committed to redesign most of the icons in Windows to the new Aero interface standards. Now, with RTM just around the corner, how are they doing? Remember last time, I recorded 4562 icons in Windows Vista? Today I took the time to extract all the icons from the Windows Vista build 5728 resource files, and identified all the 256*256 icons. I'm happy to report there are nearly 350 new high-resolution icons in Windows Vista now. Have a look for yourself. Note: icon size reduced for ease of viewing.
Download all the 256*256 icons in a ZIP (24.7MB) file for your own viewing pleasure and any other pleasures you may get out of high-resolution icons. Or, you might prefer the PNG version (ZIP, 14.9MB) for easy viewing.
And check this out, the fidelity and attention-to-detail for the Journal icon is amazing. Leather good enough to eat!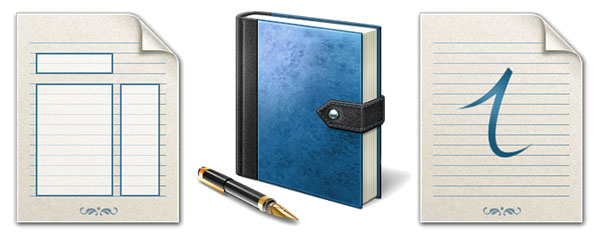 Windows Vista is looking better everyday. Even it won't be the perfect operating system, or reach the level of 'legacy-less' in Mac OS X, hats off to the Microsoft designers.
Addition: Yes. I know Mac OSX 10.5 Leopard is going to have 512*512 icons, and they look amazing. But I'm only focusing on Windows for this post.