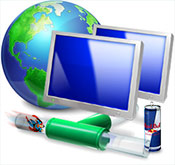 Ever since 2005, Windows Vista's network team has been confidently promoting the new network stack in Windows Vista. For those who don't know, a network stack or any stack for that matter is the foundation of an operating system which implements the various protocols. This is the software that will have the direct interface to your network hardware, and all other network applications such as Internet Explorer and Bittorent will utilize this network stack to send and receive data across a network. Their claim in 2005 was that the new network stack will deliver higher thoroughput and increase network performance for most users around the world. That's a pretty bold claim.
When anyone claims they can make your internet go faster, you should be skeptical of it. But the Microsoft people seemed rather confident, and didn't want to sell me any homeloans, replica watches or pills. So I took up the challenge.
Will Windows Vista really make my network and especially internet speeds faster?
I performed 4 tests to prove/disprove their claim. I used a tool called iperf, which measures the maximum TCP bandwidth. I ran this tool 10 times for each operating system, half on a wired 100Mbit ethernet connection, and half on a 54Mbit Wifi 802.11g connection. And because TCP/IP is an asynchronous connection, that is for every data I receive, I send data, therefore I didn't bother testing upload as it would have affected my download results anyway.
Results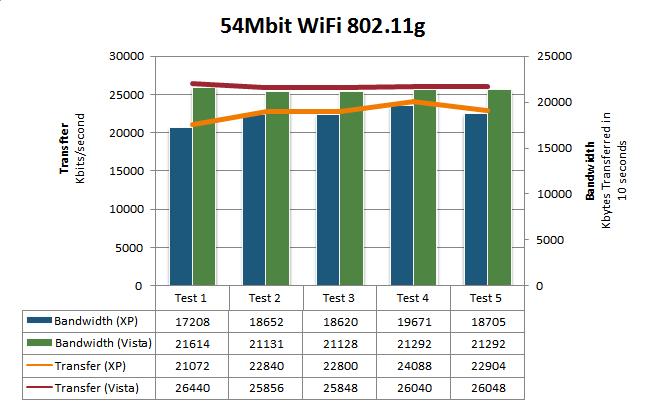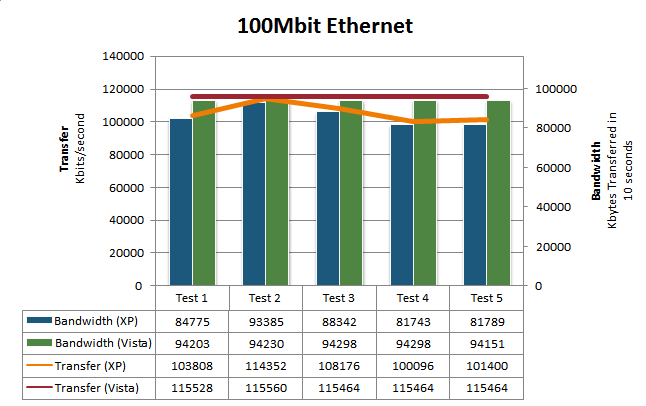 Get this
If those two graphs make you feel you're sitting through a Steve Jobs keynote, here's the summary. On average, using 54Mbit Wifi,
Vista transferred 25.4MB in 10 seconds using an average of 2661.4KB/s
Where as XP only transferred 22.2MB using an average of 2321.4KB/s
Vista transferred 3.2MB more in 10 seconds with an increase in speed of 340KB/s. An improvement of 14.6%.
Using 100Mbit Ethernet,
Vista transferred 112.8MB in 10 seconds using an average of 11.5MB/s
Where as XP only transferred 103.1MB using an average of 10.5MB/s
Vista transferred 9.7MB more in 10 seconds with an increase in speed of 1MB/s. An improvement of 9.5%.
Conclusion
So the results are clear, Windows Vista definitely improves TCP/IP network thoroughput, but how does this translate to a real-world situation? Of course in a real-world environment where George Bush actually controls countries outside of his elected government, there are many more factors affecting the download and upload speed. But let's presume these factors do not fluctuate, you have an adequately fast connection, and you only change operating systems. If you were to legally download a movie using Bittorent, but since I've never done it, let's just presume the file size is 1.5GB. You could cut your download times by 10%. If you were on a 1Mbit connection, you could save 18 minutes. If you were on a 10Mbit connection, you could save 2 minutes.
However, remember TCP/IP is an asynchronous connection. Therefore, if everyone who is seeding that movie switches from XP to Vista, the network performance across the board will improve by even more than 10%. And this not only affects file downloads, everything from online games such as Counter-Strike to even iTunes will benefit from this increase in network performance.