No, terrorists did not take my blog hostage. What some of you have been experiencing in the last 12 hours can be explained with this simple graph: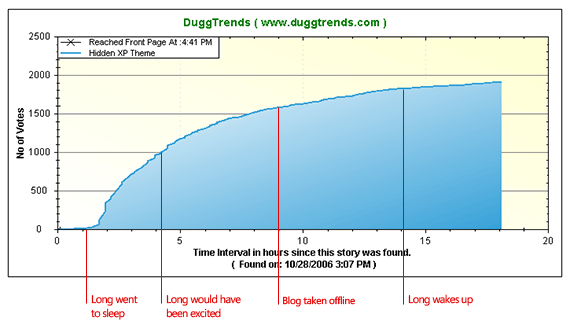 The blue line also indicates the number of times the server died. Only kidding.
Clarification: I think some of you got the wrong idea, so I'll clarify.

I am making light of the whole situation. The person to blame is me for having not set up a mirror beforehand. Obviously what happened as Oscar (my host) explained, my blog was causing the server to continuously crash so he removed the config for my domain, subsequently causing it to be redirected to the next website in the config, Jengajam. Obviously it was an abrupt change without notification to the users, so most people were confused, nevertheless, I don't mind it. Jengajam is a fun site, a site which I helped design way too long ago.
So in conclusion, don't blame my host. It was either having a dead server, or having this blog turned off temporarily. And you can see which was the obvious choice. The guys at Annandale Nordic (company representing) are great. They literally sponsor me with unlimited bandwidth, so I'm extremely grateful. What they've done might have been abrupt, but it was in good intention. I support their decision and as well as Jengajam.