There has been more Vista scoops posted today on the series of tubes than the last 3 months combined. As we approach judgment day, things are starting to make sense.
Product branding icons


Paul Thurrott (image credit) has posted an image snippet of all the branded products' icons in Windows Vista, set against the new default Aurora desktop wallpaper. From left to right: Windows Calendar, Windows Meeting Space, Windows DVD Maker, Windows Mail, Windows Media Player, Windows Movie Maker, Windows Photo Gallery. I haven't seen so much glass in my whole life. But both the DVD Maker and Media Player's icon seems extremely quirky.
New wallpapers (and real build 5840)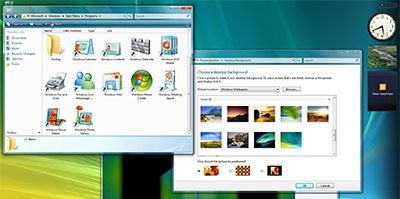 kenipnet (image credit) from the Neowin forums has posted this screenshot of a Vista escrow build with the final wallpapers including the new default Aurora. Comparing the wallpapers inside the betas, new ones visible on the screenshot includes a yellow beach-sunset, a standard landscape view with shrubs rock and sky, and a real aurora. The real aurora looks spectacularly hot.
Vista and Office packaging


Nick White (image credit) from the Windows Vista team blog posted these rendered shots of the packaging cases for Windows Vista and Office 2007. As Robert McLaws also pointed out, I was (nearly) right with my original assumptions for the packaging. Regardless, they're unique and aesthetically pleasing. Although the Office box-art is considerably better than the Vista one. Like everyone else, we wait for what the Ultimate edition might look like.


Update: Big thanks to Andre Da Costa (image credit), the other Windows Vista editions' packaging has also been released. Can anyone say, holy freaking super deliciously awesome? Jenny Lam and her team did an amazing job. Funny how Home Basic doesn't get a prominently visible aurora background.
Windows Vista sounds


James Senior from Microsoft UK has posted a compilation of all the new sounds in Windows Vista from an unidentifiable build. The sounds he demonstrates includes: critical stop, ReadyBoost drive inserted, Windows UAC control prompt, new e-mail notification, low battery alarm, exclamation, Windows start and exit Windows. What you will hear will shock and awe you.
Vista has NOT been RTM-ed


As oppose to what several people has stated in and around enthusiast communities like Neowin, several key Microsoft employees has firmly stated that Vista has not been released to manufacturing. The day might be soon, but is certainly not today, or tomorrow. There's still a bit more work to do. Build 6000.16384 is real, but it also doesn't mean RTM. These days, Microsoft doesn't have to increase the major version number when building, so theoretically, any sub-set of build 6000 (6000.16385, 16386, etc…) can be RTM. 😉
Mysteries yet to solve
However not everything has leaked, there are still many mysteries we have yet to solve, including:
Ultimate Extras
Television commercials/posters
Official theme song (XP was Ray of Light)
Celebrity endorsements (besides Demetri Martin)
Anytime Upgrade pricing
Windows Vista sounds (since James was no help)
It's not over yet. The party's just getting started.
Update: Added snippet debunking rumors Vista has been released to manufacturing.