Everyone has gone leak-happy in the last few days, so I'm here just to clean up some mess. We've awed at wallpapers. We've heard sounds. We've dribbled at packaging. We've peeked at new icons. My life is complete, after this rant.
Paul Thurrott
I was both surprised and disappointed when Paul Thurrott leaked the new brand icons last week. Part of the disappointment came from the lack of enthusiasm and back-story behind the icons when they were originally showcased just as a banner-ad on the WinSuperSite. There was no 'bang' to the story when infact it was a fairly significant milestone for the user-experience group. There should have been at least a breakdown of the design process and the choices the design team has made for these icons to give a better impression of what they represent.
The other part of the disappointment came from the lack of care when it comes to showcasing something so visually 'fragile'. I've always uploaded graphics and videos at the highest possible quality (at the despair of my host) because I believe when you are showcasing to the world an upcoming product, you should give care to how you are demonstrating it. Not only does it respect the designer's efforts, but also thousands of people might judge the product on what you show them.
So to put everything I've said into context, I'd like to show you this comparison. Note I'm using PNG lossless compression, so I have not manipulated the images in any way.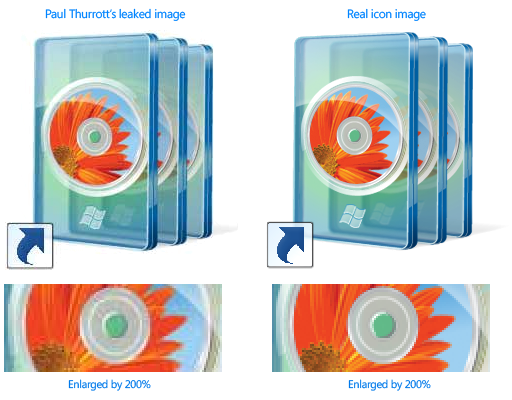 It's an utter disgrace. I won't publish all the other icons since you can get them from literally everywhere, but I recommend you all to leave your final judgment until you've experienced Vista yourself, and not from screenshots.
Outstanding rumors
Rumor: There will be a new animated 32-bit bootscreen.
Fact: It'll be the same scrolling green bars you've seen in RC1/RC2. This is due to technical limitations with many graphics cards. The "/noguiboot" method remains for OEMs and hackers to customize.
Rumor: There will be a 5.1 surround Vista startup sound.
Fact: It's a nice sound, but its not surround.
Rumor: The "Add gadgets" screen will be glass-less.
Fact: Sadly, still glassy with unreadable text.
Rumor: Vista needs more than 10GB of hard disk space.
Fact: Definitely less than 8GB without debug code.
Rumor: Aero Diamond?
Fact: No.
Anyone want to start leaking Windows Vienna? 🙂