A lot of people have asked for an in-depth comparison between the many consumer edition of Windows Vista: Home Basic, Home Premium and Ultimate. And of course, I tell them, "Don't look at me, I don't have a clue." But someone has to know, and who better to know than Microsoft.
Windows Vista ships with a new tool called "Windows Anytime Upgrade", which enables on-the-fly upgrades to higher-tiered versions of Windows Vista with the ease of a simple online transaction. In this tool, is also a "comparison matrix" chart which helps Microsoft to tease you about all the features you're missing out on because you're too cheap to buy Ultimate. But of course, this chart might also help some understand and value the differences between the three editions of Windows Vista. (Excluding Home Basic N, for all the media-crippled Europeans.)
Remember, this is the matrix. Can you handle the truth?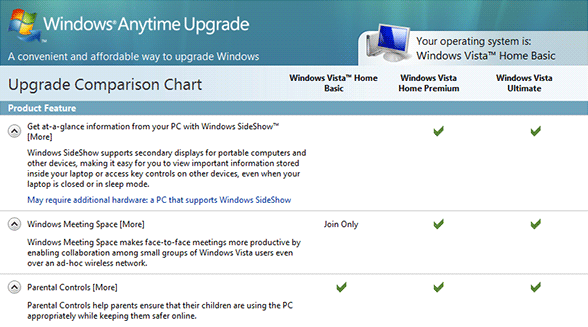 Click image to view full-sized chart. (231KB)
For an alternative comparison matrix with Business and Enterprise editions, have a look at Ed Bott's Secret Decoder Ring.